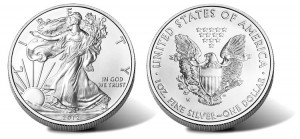 Debut sales of newly released 2012-W American Uncirculated Silver Eagle retreated sharply from past issues, according to the latest U.S. Mint sales figures.
Playing roles in the slower start are distracting summer activities like the London Olympics, weaker silver prices and a release between two other products containing American Silver Eagles.
Priced $45.95 each, sales reached $5,688,656 between its Thursday release and Monday. In unit numbers, buyers ordered 123,801. That represents a 33.1% fall from debut sales of 184,967 for last year's Uncirculated Silver Eagle, which notably started with a price tag that was $14.50 higher at $60.45.
Then again and despite its price, eyes were certainly keener on last year's release. Pent-up demand was greater as the 2011-W American Uncirculated Silver Eagle marked a return from a two-year hiatus in the series. Plus, the Eagle launched during a more favorable collecting month (September 20) and in the midst of a run-up in silver prices.
Also, this year's coin came between two sets with Silver Eagles that have received far more attention and trimmed collector's budgets. The 2012-S American Silver Eagle Two-Coin Proof Set debuted on June 7, 2012 and the Making American History Coin and Currency Set debuted Tuesday, August 7, 2012.
2006-2011 Uncirculated Silver Eagle Sales Figures
In Silver Eagle mintages by year, the first uncirculated American Silver Eagle appeared in 2006 with total sales of 466,573. Of those, 198,553 were ordered individually, 248,875 were from the American Eagle 20th Anniversary Silver Set, and 19,145 were claimed in the American Eagle 20th Anniversary Gold and Silver Set.
Sales climbed in 2007 to 710,299 but pulled back in 2008 to 535,598.
Uncirculated Silver Eagles were not minted in years 2009 and 2010 as the U.S. Mint focused its resources on fulfilling the demand for bullion coins.
Last year's uncirculated Silver Eagle remains available. Its individual sales stand at 298,284. Then there are 100,000 more that were sold in last year's American Silver Eagle 25th Anniversary Set.