The United States Mint released the 2011 Eliza Johnson First Spouse Gold Coins on Thursday, May 5, at 12 PM Eastern Time. The coins are this year's debut issue in the First Spouse series and the eighteenth since they began in 2007.

Eliza Johnson was the country's First Lady while her husband Andrew Johnson served as President of the United States between 1865 and 1869. The collector coins honoring her are struck from 1/2 ounce of pure 24-karat gold and have opening prices of $929.00 for the proof and $916.00 for the uncirculated.
Also on sale is the 1 5/16 inch Eliza Johnson bronze medal for $7.95. This bronze medal mimics the Eliza Johnson First Spouse Gold Coin, with similar images on both sides.
Eliza Johnson Coin Design
A portrait of Eliza Johnson, designed by Joel Iskowitz and sculpted by Don Everhart is on the obverse. Inscriptions include "ELIZA JOHNSON," "IN GOD WE TRUST," "LIBERTY", "2011," "W" (denoting the US Mint facility at West Point), "17th", and "1865-1869."
The reverse features a scene with three children dancing while a Marine Band fiddler plays at the children's ball that was held for President Johnson's 60th birthday. Gary Whitley was the image designer and Phebe Hemphill was the sculptor. Its inscriptions are "UNITED STATES OF AMERICA," "E PLURIBUS UNUM," "$10," "1/2 OZ.," and ".9999 FINE GOLD."
Each gold coin is sold separately. It is encapsulated and packaged in a polished, custom-designed, lacquered hardwood presentation case with a Certificate of Authenticity.
Order, Mintage and Pricing Information
Orders for the Eliza Johnson First Spouse Gold Coins and bronze medal can be placed at http://www.usmint.gov/catalog or at 1-800-USA-MINT (872-6468). Hearing and speech-impaired customers with TTY equipment may order at 1-888-321-MINT (6468). A $4.95 shipping and handling charge will be added to all domestic orders, and shipping is expected within one to two weeks for in-stock products. There are no per household order limits in place. The United States Mint is limiting the mintage to 15,000 across both options, like it has done for the past two years with few exceptions.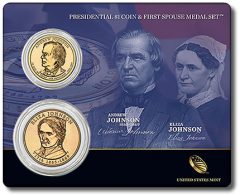 The US Mint's pricing policy for the First Spouse Gold Coins can fluctuate weekly, and it is based on the London Fix weekly average price of gold from Thursday until the following Wednesday. Usually when a price change is warranted, the increase or decrease is in $25 increments. If a huge swing in the gold market should occur, however, the gold coins' prices can adjust further. Current Eliza Johnson coin prices, which will last at least until Wednesday when the Mint reevaluates the market, are based on an average that is between $1,500.00 and $1,549.99 an ounce.
First Spouse Gold Coins are issued in the same order as the circulating Presidential $1 Coins. The United States Mint released the Andrew Johnson $1 coin into circulation via Federal Reserve Banks across the nation on February 17, 2011. A set containing the Johnson Presidential $1 Coin and the Eliza Johnson bronze medal (the Johnson Presidential $1 Coin and First Spouse Medal Set) are scheduled for release next week on Tuesday, May 10.
Later 2011 spouse coins and their expected release dates include:
Julia Grant (June 2, 2011)
Lucy Hayes (September 1, 2011)
Lucretia Garfield (December 12, 2011)
About the United States Mint
The United States Mint, created by Congress in 1792, is the Nation's sole manufacturer of legal tender coinage. Its primary mission is to produce an adequate volume of circulating coinage for the Nation to conduct its trade and commerce. The United States Mint also produces proof, uncirculated and commemorative coins; Congressional Gold Medals; and silver, gold and platinum bullion coins.