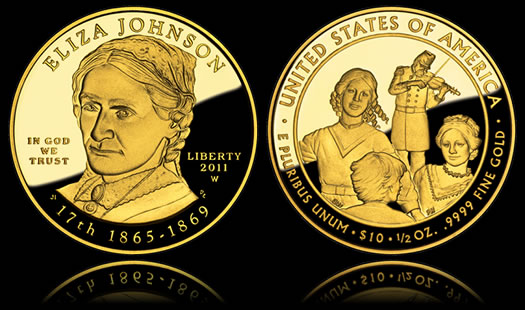 Eliza Johnson First Spouse Gold Coins are no longer available. The last of the two versions — the proof coin — was taken off sale Wednesday, June 20, 2012. Its companion uncirculated coin was pulled from United States Mint store shelves earlier in the month.
Demand dictates how many of the coins are produced, and early buying greatly controls inventory. The U.S. Mint on release day announced that the maximum mintage across both coins was 15,000. Sales were sharply lower.
The latest sales readings as of Monday, June 18, had the proof at 3,906 and the uncirculated at 2,905 for a combined total of 6,811, or 45.4% of the first advertised mintage max. The total and proof figures mark a new low for the gold coin series, although that could be challenged by other spousal coins when they become unavailable. The uncirculated sales total currently falls just behind Julia Tyler's uncirculated at 2,861. The lack of popularity — driven greatly by coin prices — is making the series increasingly interesting as low mintage coins tend to become very appealing down the road.
One-half ounce, 24-karat Eliza Johnson First Spouse Gold Coins launched last year on May 5, 2011. The proof and uncirculated coins had respective debuting prices of $929 and $916. Prices fluctuated through their availability as precious metals varied. Each coin had listed prices of $954 and $941 right before they went off sale.
In addition to her portrait on the obverse designed by Joel Iskowitz, Eliza's gold coins have a reverse by Gary Whitley that depict three children dancing and a Marine Band fiddler playing at a children's ball. The event was held for President Johnson's 60th birthday.
With release dates for this year's 2012 First Spouse Gold Coins yet to be determined, the U.S. Mint continues to sell five of last year's issues. Prices for them went up early Wednesday as a result of higher gold prices. The proofs are $979 and the uncirculated coins are $966.
Those coins still on sale are available directly from the U.S. Mint website at http://www.usmint.gov.