Today, June 1, 2012, the United States Mint placed the limited-edition 2012 Star-Spangled Banner Bicentennial Silver Dollar Set on sale for a price of $53.95.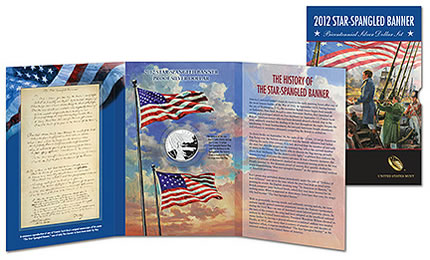 Included for the price is a 2012-P Proof Star-Spangled Banner Silver Dollar which, interestingly, is sold separately for $1 more at $54.95. This coin is held within an attractive presentation folder which also contains:
a reproduction of one of Francis Scott Key's original manuscripts of his poem The Star-Spangled Banner,
the lyrics to the Star-Spangled Banner, and
history about the Star-Spangled Banner which is contrasted against attractive artwork depicting the battle between U.S. and British forces for Fort McHenry, Maryland
Created by Joel Iskowitz and sculpted by Phebe Hemphill, the obverse silver dollar design depicts Lady Liberty waving the Star-Spangled Banner flag with Fort McHenry in the background. Inscriptions include LIBERTY, IN GOD WE TRUST and 2012.
Designed by William C. Burgard III and sculpted by Don Everhart, the silver dollar reverse features a modern American flag waving from the wind. Inscriptions include ONE DOLLAR, E PLURIBUS UNUM and UNITED STATES OF AMERICA.
Commemorative Coin and Set Prices, Current Sales and Mintages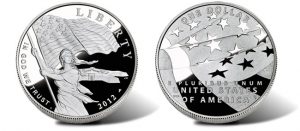 Through the Star-Spangled Banner Commemorative Coin Act (Public Law 111-232) which was signed into law on August 16, 2010, the U.S. Mint was authorized to produce the commemoratives in both gold and silver and in proof and uncirculated qualities. The coins celebrate the bicentennial writing of the American national anthem.
Along with companion $5 gold commemorative coins, the U.S. Mint on March 5, 2012 released uncirculated and proof Star-Spangled Banner Silver Dollars at respective introductory prices of $44.95 and $49.95. At the end of the introduction period on April 5, 2012, each coin went up $5 to the standard and current respective pricing of $49.95 and $54.95.
Current prices across all the commemorative coin products and their latest sales figures as of May 28, 2012 are provided in the following grid:
Current Prices
Current Sales
Max Mintages
$5 Proof Gold
$485.70
4,707
100,000 gold; 500,000 silver
$5 Uncirculated Gold
$475.70
3,566
Two-Coin Proof Set
$535.70
8,783
Proof Silver Dollar
$54.95
88,651
Uncirculated Silver Dollar
$49.95
33,677
Bicentennial Silver Dollar Set
$53.95
N/A
50,000 Product Limit
The commemorative gold coins are produced at the U.S. Mint facility at West Point and feature obverse "W" mint marks. The commemorative silver dollars are struck at the U.S. Mint facility in Philadelphia and bear obverse "P" mint marks. The Two-Coin Proof Set listed above includes one proof $5 gold coin and one proof silver dollar.
Ordering Details
Collectors may order the Bicentennial Silver Dollar Set or individual commemorative coins through the U.S. Mint's online product page, located here, or by calling the toll-free number 1-800-USA-MINT (872-6468). A per household ordering limit of 100 is in place for a minimum of one week. The set itself has an imposed product limit of 50,000.
Surcharges, which are already added into the price, are collected for each coin sold. Each silver dollar has a $10 surcharge which is paid to the Maryland War of 1812 Bicentennial Commission (starspangled200.org) for the purpose of supporting bicentennial activities, educational outreach, and preserve and improve the sites and structures related to the War of 1812. Gold coins include a $35 surcharge to be used for the same purpose.