Official details have emerged for the 2012 Star-Spangled Banner Bicentennial Silver Dollar Set. The U.S. Mint late Friday afternoon published a press release about the set and made its online product page live.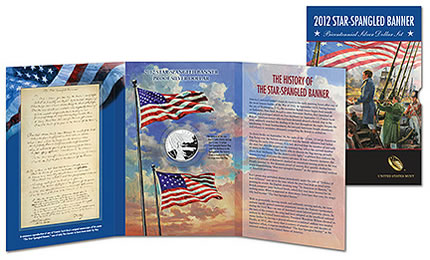 Launching on Friday, June 1, 2012, the Star-Spangled Banner Bicentennial Silver Dollar Set will go on sale for a price of $53.95, have a household ordering limit of 100 and an overall product limit of 50,000. The set contains:
a proof Star-Spangled Banner Silver Dollar,
a reproduction of one of Francis Scott Key's original manuscripts of his poem "The Star-Spangled Banner,"
the full lyrics to the "Star-Spangled Banner," and
information about the national anthem against colorful artwork depicting the battle between U.S. and British forces for Fort McHenry, Maryland
Star-Spangled Banner Commemorative Coins were authorized by Congress as one of two commemorative coin programs in 2012. Coins authorized under the program include $5 gold coins and silver dollars in proof and uncirculated qualities. In addition, the U.S. Mint is also selling a Star-Spangled Banner Two-Coin Proof Set containing one proof $5 gold coin and one proof silver dollar.
Their latest prices and sales figures as of May 21, 2012 are listed in the following table:
Current Prices
Current Sales
Mintage Limits
$5 Gold Proof
$485.70
4,683
100,000
$5 Gold Uncirculated
$475.70
3,552
Two-Coin Set
$535.70
8,729
limited by gold and silver coin mintages
Silver Dollar Proof
$54.95
86,973
500,000
Silver Dollar Uncirculated
$49.95
33,514
Collectors wanting to purchase the 2012 Star-Spangled Banner Bicentennial Silver Dollar Set may do so on Friday beginning at 12:00 noon Eastern Time through its product page, located here, or by calling the toll-free number 1-800-USA-MINT (872-6468).