A limited-edition Star-Spangled Banner Bicentennial Silver Dollar Set is "coming soon," according to the United States Mint. First mentioned along with a series of product pricing cuts in February but not released with the other commemoratives this past Monday, the 50,000 limited edition collectible set will include one silver dollar and materials related to the bicentennial writing of the Star-Spangled Banner.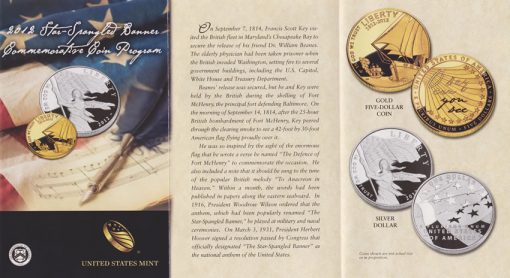 Although information about the set is not yet available on the U.S. Mint website, details were revealed in a marketing brochure that the bureau recently mailed to its customers. According to it, the Star-Spangled Banner Bicentennial Silver Dollar Set will contain:
one proof silver dollar
a reproduction of one of Francis Scott Key's original manuscripts of "The Star-Spangled Banner,"
the lyrics to "The Star-Spangled Banner,"
a historical narrative about the origin of Key's poem, and
period-appropriate, original artwork
Currently, the U.S. Mint is offering individual uncirculated and proof Star-Spangled Banner Silver Dollars for respective prices of $44.95 and $49.95. While subject to change, the collector's bicentennial set is expected at $53.95 based on a public notice in the Federal Register. The price was categorized as "regular" and not "introductory," so it appears an early buyer's discount will not be an option as it is with the individual commemorative coins.
In addition to the two silver dollars, the U.S. Mint is already selling two types of Star-Spangled Banner $5 gold coins and a two-coin proof set. These products and their current prices include:
a $5 Gold Uncirculated Coin for $495.00
a $5 Gold Proof Coin for $505.00, and the
Two-Coin Proof Set (one silver dollar and one $5 gold coin) for $555.00
Currently available commemorative products may be ordered on the U.S. Mint website at http://www.usmint.gov/catalog. The Mint advises in its brochure to check its site "often" as details on the bicentennial set will be provided as they become available.
Each gold and the silver coin commemorate the bicentennial of Francis Scott Key's writing of the poem, "The Defense of Fort McHenry." The poem was later named the "The Star-Spangled Banner" and was designated the national anthem of the United States on March 3, 1931.