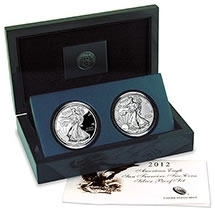 2012-S American Silver Eagle Two-Coin Proof Sets are a bit scarcer than first thought, finalized sales from the United States Mint show.
One of the most sought-after numismatic products of the year, the proof set had U.S. Mint reported sales of 251,302. That was the preliminary total last spit out by the Mint's sales odometer — a visual tool that gave customers a daily sales total during the set's four-week ordering window from June 7, 2012 through to July 5, 2012
Returns and cancellations since then have toggled down the amount by 26,321. On Thursday, December 6, 2012, a U.S. Mint official stated that final sales for the 2012-S American Silver Eagle Two-Coin Proof Set is 224,981. The tally is unaudited, but not likely to change much.
Why the correction? Contained within the proof set is one 2012-S Reverse Proof American Silver Eagle and one 2012-S Proof American Silver Eagle. Collectors thought both coins were exclusive to the set. Many of them became disenchanted when learning later that another product, the Making American History Coin and Currency Set, would also include the 2012-S Proof. An angry call went out to cancel proof set orders. Some collectors did… and the U.S. Mint was jabbed in the eye. The 26,321 drop translates to a U.S. Mint revenue loss of more than $3.94 million.
Still, those who held onto their sets may be bit a happier at this point. 2012-S Reverse Proof American Silver Eagles suddenly became more attractive with sales of 224,981. The American Eagle series through its 27-year history sports just three coins with a lower mintage. It was four before the sales update. Those with lower mintages are the 1995-W Proof American Silver Eagle at 30,125; the 2011-P Reverse Proof American Silver Eagle at 100,000; and the 2011-S Uncirculated American Silver Eagle also at 100,000.
Secondary market prices in July for one 2012-S American Silver Eagle Two-Coin Proof Set ran about $194. That level has not really changed for ungraded sets, although sets with the coveted 70 grade have sold from double to triple the amount. The question is, will this latest news drive prices higher?