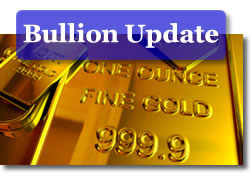 Gold declined Monday and for a second straight day as early gains in the U.S. dollar helped drive the yellow metal to its lowest settlement price since April 5.
"As long as the general impression of economic stability is positive, money managers will tend to move away from the yellow metal and towards the paper investments with promise of higher returns," Reuters quoted Carlos Perez-Santalla, precious metals trader at PVM Futures.
Gold prices for June delivery declined $10.50, or 0.6%, to close at $1,649.50 an ounce on the Comex in New York. Gold's intraday low and high were $1,642.00 and $1,659.60. Gold rallied for a good portion of last week, advancing 1.8%.
Silver prices for May delivery settled down 1.7 cents, or 0.1%, to $31.373 an ounce, hitting a daily low of 31.175 and a high of $31.700. Silver declined 1.1% last week.
Jim Wyckoff of Kitco News writes about the near-term technical aspects for silver in his Monday Kitco Metals Roundup:
"May silver futures prices closed near mid-range Monday in quieter trading. The bears still have the slight near-term technical advantage. Bulls' next upside price breakout objective is closing prices above solid technical resistance at the April high of $33.295 an ounce.

The next downside price breakout objective for the bears is closing prices below solid technical support at the April low of $30.98. First resistance is seen at Monday's high of $31.70 and then at $32.00. Next support is seen at Monday's low of $31.175 and then at $30.98. Wyckoff's Market Rating: 4.5."
Platinum prices for July delivery fell $12.10, or 0.8%, to $1,575.80 an ounce, ranging from $1,563.00 to $1,589.90. Over last week, the PGM metal lost 1.2%.
Bucking the trend of other precious metals, palladium prices for June delivery gained $3.50, or 0.5%, to $650.70 an ounce. Prices moved between $635.50 and $653.75. Palladium climbed a 0.4% last week.
London Precious Metal
London precious metals moved lower with the exception of palladium. In comparing the most recent London PM fixings:
Gold declined $13.50, or 0.8%, to $1,653.00 an ounce,
Silver lost $1.045, or 3.2%, to $31.32 an ounce,
Platinum fell $30.00, or 1.9%, to $1,570.00 an ounce, and
Palladium gained $2.00, or 0.3%, to $645.00 an ounce
London precious metals climbed last week with increase of 2.2% for gold, 3.5% for silver, 0.5% for platinum and 1.3% for palladium.
U.S. Mint Bullion Coins – Silver Eagle Sales Pass 11 Million
Sales of the U.S. Mint's two most popular American Eagle bullion coins advanced Monday. The one-ounce Gold Eagle added 1,000 and bullion Silver Eagle rose 100,000. The gains for both coins were easily the mildest for the beginning of a new week this month, but for the Silver Eagle it was enough to pull sales just over 11 million for the year. Since the American Silver Eagle series debuted in 1986, only last year started quicker… substantially quicker, actually, as sales had already reached 13.85 million by mid-April.
The following are the available daily, weekly, April and year-to-date bullion coin sales totals as provided by the U.S. Mint.
Sales of U.S. Mint American Eagle and Buffalo Bullion Coins
Daily Gains
April Gains
YTD 2012
American Gold Eagles (1 oz.)
1,000
12,000
174,000
American Gold Eagles (1/2 oz.)
0
0
51,000
American Gold Eagles (1/4 oz.)
0
0
40,000
American Gold Eagles (1/10 oz.)
0
5,000
135,000
American Gold Buffalo Coin (1 oz.)
0
7,000
53,500
American Silver Eagle
100,000
880,000
11,019,000
Sales of America the Beautiful 5 Oz. Silver Bullion Coins
Prior Weekly
Weekly Gains
All-Time Total
Olympic National Park 5 oz. Silver Coins
0
0
85,100
Vicksburg National Military Park 5 oz. Silver Coins
0
0
38,300
Chickasaw Park 5 oz. Silver Coins
0
200
28,900
TOTAL
0
200
152,300
All bullion coin sales in the above tables are in number of coins, not in the amount of ounces sold. The U.S. Mint last updated five ounce bullion silver coins sold on Monday, April 9.