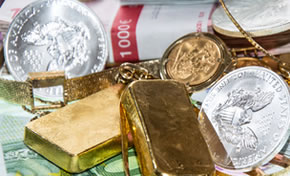 Gold and silver scooped up their fourth straight week of gains and gold notably closed at a five-week high.
In bullion coin news, this week the U.S. Mint introduced its 2014 American Eagle silver coin. Its opening sales and those of the 2014 American Eagle gold bullion coins follow further below.
On Friday, gold for February delivery advanced $11.70, or 0.9%, to settle at $1,251.90 an ounce on the Comex division of the New York Mercantile Exchange. The close was gold's highest since ending at $1,257.10 an ounce on Dec. 11. Gold prices rose $5, or 0.4%, on the week.
Gains have come even as more analysts turn bearish. In a MarketWatch article on Friday entitled "Gold contrarians say it's time to start buying," the piece quotes Dennis Gartman, editor and publisher of The Gartman Letter:
"The analyst landscape is uncommonly bearish. Even the 'gold bugs' are neutral of gold and that is stunning, really." His view: it's "time to be quietly bullish."
This week, gold tended to rise as equities and the U.S. dollar fell. The yellow metal also got a boost on Thursday when a report on U.S. inflation showed consumer prices increased in December by the most in six months, though the annual inflation level was cited by economists as tame.
Gold Outlook
Most participants in Kitco News' weekly gold survey forecast higher gold prices next week. The survey has been on track with accurate majority predictions since missing the first weekly gain in gold's current streak of four.
"In the Kitco News Gold Survey, out of 33 participants, 27 responded this week. Sixteen see prices up, while eight see prices down and three see prices trading sideways or are neutral," reports Kitco.

"Several survey participants who see higher prices said they expect improving technical charts may support the yellow metal… Those who see weaker prices next week think the current rally in gold won't last…"
Gold prices on the year are up 4.8% after dropping 28.3% in 2013 for its worst annual loss in 32 years.
Silver, Platinum and Palladium Futures
Snapping a three-session losing streak, silver for March delivery rose a quarter, or 1.3%, to close at $20.30 an ounce. Silver hit its own nearly five-week high, but on Monday at $20.39 an ounce. Silver prices finished the week stronger by 8 cents, or 0.4%.
In other precious metals futures on Friday:
April platinum rose $22.60, or 1.6%, to end at $1,454.10 an ounce.

Palladium for March delivery added $4.65, or 0.6%, to finish at $748.55 an ounce.
For the week, platinum surged 1.2% while platinum added 0.3%.
London Fix Precious Metals
London bullion fixings also rose Friday and for the week. First, in comparing the London fix prices from Thursday PM to Friday PM:
Gold turned up $8.50, or 0.7%, to $1,250 an ounce,
Silver added a penny, or less than 0.1%, to $20.01 an ounce,
Platinum jumped $23, or 1.6%, to $1,447 an ounce, and
Palladium tacked on $6, or 0.8%, to $747 an ounce
For the week, gains totaled 0.5% for gold, 1.1% for silver, 1.5% for platinum and 1.4% for palladium.
US Mint Bullion Sales in January
On Thursday, Jan. 2, the U.S. Mint began selling its 2014-dated gold bullion coins. Through Friday, Jan. 17, or one day over the two-week mark, sales of the coins totaled 123,000 ounces with splits of:
83,500 ounces of 2014 American Eagle Gold Bullion Coins and
39,500 ounces of 2014 American Buffalo Gold Bullion Coins
The pace for the year so far is slower than last year through the same time frame when bullion sales totaled 166,500 ounces. Gold Buffalos match at 39,500 ounces but Gold Eagles started higher last year with sales of 127,000 ounces.
Newly dated coins are always popular as investors and collectors clamor to buy them. This year, U.S. Mint authorized dealers have had an advantage of buying 2014-dated Gold Eagles alone whereas last year they had to order prior-year and current-year coins together. The U.S. Mint still has inventories of 2013-dated Gold Eagles but its authorized dealers do not have to order them… yet. As described last week, beginning on Tuesday, Jan. 21, the Mint will require orders to include new 2014 Gold Eagles and older 2013 Gold Eagles.
Last year and without rationing, the U.S. Mint released its 2013 Silver Eagles on Jan. 7. Its inventory was depleted by Jan. 17 with 6,007,000 sold. Silver Eagle sales did not resume until Jan. 28 and then under an allocation system that never ended.
On Monday, Jan. 13, the U.S. Mint began selling its 2014 American Eagle silver coins. For this week, the Mint limited its authorized dealers to 3,575,000 of them. All but 111,000 sold. Next week's allocation total is much lower at about 500,000 to 600,000 coins, plus the 111,000 left from this week. The Mint said it was rationing sales to begin "slowly building weekly inventories."
The following table offers a breakdown of current U.S. Mint bullion sales, those for last month and those through the same time frame in 2013.
American Eagle and Buffalo Bullion Sales (# of coins)
2014 Sales to Jan. 17
2013 Sales in December
2013 Sales to Jan. 18
$50 American Eagle Gold Bullion Coins
56,500
53,500
104,000
$25 American Eagle Gold Bullion Coins
10,000
0
15,000
$10 American Eagle Gold Bullion Coins
28,000
4,000
22,000
$5 American Eagle Gold Bullion Coins
150,000
15,000
100,000
$50 American Buffalo Gold Bullion Coins
39,500
7,000
39,500
American Eagle Silver Bullion Coins
3,464,000
1,200,000
6,007,000