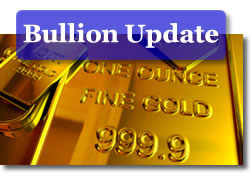 Gold turned higher Friday but the increase was modest and insufficient to pull prices into the black for the week. The yellow metal registered a weekly loss of 1.0%, declining in two of the past three weeks to shed 1.7% since the end of March.
"Fundamentally, the news is there, risk is out there," MarketWatch quoted Michael K. Smith, president of T & K Futures in Florida. "It should be (higher)" but it has traded within a $16-dollar range for the better part of two weeks, he added.
Gold prices for June delivery edged up $1.40, or 0.1%, to $1,642.80 an ounce on the Comex in New York. Prices traded between an intraday low of $1,638.60 and a high of $1,648.20.
Gold Prices Expected Higher Next Week
Bullish sentiment displayed one week ago in gold surveys remains in place for next week based on the latest surveys.
"In the Kitco News Gold Survey, out of 33 participants, 25 responded this week. Of those 25 participants, 11 see prices up, while six see prices down, and eight are neutral," reports Kitco.

"Those who see higher prices said the U.S. dollar's action will determine where gold may go… Those who see weaker prices also spoke of currency factors, suggesting that the euro may come under pressure if there are any surprises in this weekend's French presidential elections or weaker-than-expected results regarding eurozone manufacturing data due out next week."
Bloomberg gold survey results have 15 of 31 traders and analysts forecasting higher gold prices over the next several days. 10 are bearish and 6 are neutral.
Gold remains in third when compared to gains in other precious metals this year. Gold prices are higher in 2012 by $76.00 or 4.9%.
Silver, Platinum and Palladium Futures
Palladium was the decisive winner in metals this week, soaring 4.6%. Silver also advanced, up 0.8%. Platinum, however, logged a slight 0.2% weekly loss.
In settlement prices on Friday and on a year-to-date basis:
Silver prices for May delivery settled down 12.8 cents, or 0.4%, to $31.651 an ounce. The white metal moved between low and high prices of $31.540 and $31.905. For the year, silver prices have gained $3.736, or 13.4%.

Platinum prices for July delivery tacked on $6.20, or 0.4%, to $1,584.20 an ounce, trading between $1,572.90 and $1,586.90. Platinum leads precious metals this year with a pick-up of $179.30, or 12.8%.

Palladium prices for June delivery jumped $13.60, or 2.1%, to $676.90 an ounce, ranging from $659.20 to $678.75. Palladium's strong performance this week lifted prices out of the red this year. The PGM metal has advanced $20.75, or 3.2%, in 2012.
London Precious Metal
London precious metals were mixed Friday and on the week. When comparing the most recent London PM fixings:
Gold declined $8.50, or 0.5%, to $1,641.50 an ounce,
Silver gained 32.0 cents, or 1.0%, to $31.79 an ounce,
Platinum advanced $5.00, or 0.3%, to $1,579.00 an ounce, and
Palladium added $9.00, or 1.4%, to $666.00 an ounce
Palladium was the lone precious metal which climbed since last Friday, up 3.6%. Weekly losses in the others included 1.5% for gold, 1.8% for silver and 1.3% for platinum.
U.S. Mint Bullion Coins
U.S. Mint bullion coin sales came in at the lowest overall level for a week than in any other this year. Gains were limited to 100,000 for the Silver Eagles, and that occurred on Monday. Last week the 99.9% fine silver coins rose 460,000 which, while far from robust, at least bested the previous week's 320,000. Less than 1 million have been sold this month. More than 6.1 million were delivered by the Mint as recently as January.
One-ounce Gold Eagles climbed on Monday by 1,000 and again on Wednesday by 3,000 for a weekly increase of 4,000. That was down from the 7,500 claimed in the previous week. No other sizes, or other bullion coins for that matter, advanced this week. Unless another 5,500 ounces of Gold Eagles are ordered by U.S. Mint distributors, April will go down as the slowest month of the year for the 22 karat gold coins. In related news but on the collectible front, the U.S. Mint this week released the proof 2012 Gold Eagle products.
The following are the available daily, weekly, April and year-to-date bullion coin sales totals as provided by the U.S. Mint.
U.S. Mint American Eagle and Buffalo Bullion Coin Sales
Daily Gains
Prior Weekly
Weekly Gains
April Gains
YTD 2012
American Gold Eagle (1 oz.)
0
7,500
4,000
15,000
177,000
American Gold Eagle (1/2 oz.)
0
0
0
0
51,000
American Gold Eagle (1/4 oz.)
0
0
0
0
40,000
American Gold Eagle (1/10 oz.)
0
0
0
5,000
135,000
American Gold Buffalo Coin (1 oz.)
0
4,000
0
7,000
53,500
American Silver Eagle
0
460,000
100,000
880,000
11,019,000
America the Beautiful 5 Oz. Silver Bullion Coin Sales
Prior Weekly
Weekly Gains
All-Time Total
Olympic National Park 5 oz. Silver Coins
0
0
85,100
Vicksburg National Military Park 5 oz. Silver Coins
0
0
38,300
Chickasaw Park 5 oz. Silver Coins
200
0
28,900
TOTAL
200
0
152,300
All bullion coin sales in the above tables are in number of coins, not in the amount of ounces sold. The U.S. Mint last updated five ounce bullion silver coins sold on Monday, April 9.