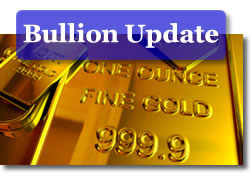 Gold advanced 1.4% Monday, registering two straight rallying sessions that have added $43.10 to the yellow metal's price since Thursday.
Gold prices rose on the day after Fed chairmen Ben Bernanke said that the U.S. must have faster growth to lower the unemployment rate further and that continued stimulus policies are a needed.
"To the extent that this reversal has been complete, further significant improvements in the unemployment rate will likely require a more rapid expansion of production and demand from consumers and businesses, a process that can be supported by continued accommodative policies," Bernanke said before the National Association for Business Economics.
April gold prices rallied $23.20 to $1,685.60 an ounce on the Comex in New York, ranging from an intraday low of $1,655.10 to a high of $1,687.80.
"The market is reacting to Bernanke's comments, as it brings the back specter of QE3," Frank McGhee, the head dealer at Integrated Brokerage Services LLC in Chicago, said in a telephone interview that was relayed on Bloomberg. "If you end up with any type of stimulus, that will benefit all metals."
Last week gold edged 0.4% higher. It was the only precious metal to log a weekly gain. Despite two straight session increases, outlook for gold remains fairly cautious with the month and quarter ending Friday.
"If the dollar is going to strengthen over the next couple of days, gold should see more downward pressure," Reuters quoted Standard Bank analyst Walter de Wet.
Silver prices for May delivery rose 47.8 cents, or 1.5%, to $32.75 an ounce, trading between $32.02 and $32.89.
Platinum prices for April delivery gained $18.80, or 1.2%, to $1,646.70 an ounce, ranging from $1,620.60 to $1,649.30.
Palladium prices for June delivery tacked on $8.85, or 1.3%, to $668.75 an ounce, moving between $658.00 and $674.75.
Last week, silver, platinum and palladium futures losses came to respective percentages of 1.0%, 2.8% and 6.0%.
London Precious Metals
London precious metals started the week aggressively higher as well. When comparing the most recent London PM fixings:
Gold gained $16.25, or 1.0%, to $1,680.25 an ounce,
Silver prices advanced 32.23 cents, or 2.2%, to $32.23 an ounce,
Platinum added $22.00, or 1.4%, to $1,639.00 an ounce, and
Palladium rose, $6.00, or 0.9%, to $664.00 an ounce
Last week, gold had climbed 0.4% while other metals fell to include losses of 2.3% for silver, 3.6% for platinum and 6.4% for palladium.
U.S. Mint Bullion Coins
Sales of U.S. Mint bullion coins were limited Monday to the bureau's silver coins. The American Silver Eagle climbed 250,000 following a pickup of 275,000 on Friday. Sales are quickly approaching the 10 million mark for the year. Also advancing were America the Beautiful Five Ounce Bullion Silver Coins. The .999 fine silver coins rose 400, their first increase since March 12.
The following are the most recent daily, weekly, monthly and year-to-date bullion coin totals as published by the U.S. Mint.
Sales of U.S. Mint American Eagle and Buffalo Bullion Coins
Daily Gains
March Gains
YTD 2012
American Gold Eagles (1 oz.)
0
39,500
144,000
American Gold Eagles (1/2 oz.)
0
2,000
51,000
American Gold Eagles (1/4 oz.)
0
0
40,000
American Gold Eagles (1/10 oz.)
0
30,000
120,000
American Gold Buffalo Coin (1 oz.)
0
23,000
43,500
American Eagle Silver Coins
250,000
2,387,000
9,984,000
Sales of America the Beautiful 5 Oz. Bullion Silver Coins
Prior Weekly
Weekly Gains
All-Time Total
Olympic National Park 5 oz. Silver Coins
0
200
85,100
Vicksburg National Military Park 5 oz. Silver Coins
0
200
38,300
Chickasaw Park 5 oz. Silver Coins
0
0
28,700
TOTAL
0
400
151,700
All bullion sales in the above tables are in number of coins sold, not in the amount of ounces sold.