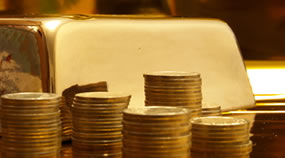 Precious metals started July and the second half of 2013 with broad gains after tumbling in the second quarter.
And in a rare daily event, U.S. Mint sales increases were logged Monday for each of the bureau's bullion coins.
Returning to metals, gold for August delivery rallied $32, or 2.6%, to finish at $1,255.70 an ounce on the Comex in New York. Gold traded from a low of $1,224.10 to a high of $1,261.70. Higher demand for physical gold supported gains, opined analysts.
"Physical demand in Asia continues to be strong," Carlos Perez-Santalla, a New York-based broker at Marex North America LLC, said in a telephone interview. "The focus on the Fed stimulus and when the tapering may begin has begun to wane."
In other precious metals futures on Monday:
Silver for September delivery gained 10.8 cents, or 0.6%, to $19.58 an ounce, ranging from $19.36 to $20.08.

October platinum advanced $42.60, or 3.2%, to $1,382.50 an ounce, trading between $1,335 and $1,387.90.

September palladium leapt $26, or 3.9%, to $686.70 an ounce, ranging from $658.25 to $689.45.
Friday closed out the second quarter with steep losses across precious metals that totaled 23.3% for gold, 31.3% for silver, 14.9% for platinum and 14% for palladium.
London Fix Precious Metals
London precious metals started July higher. In contrasting the Friday PM to Monday PM London fixings:
Gold surged $50.75, or 4.3%, to $1,242.75 an ounce,
Silver jumped 58 cents, or 3.1%, to $19.44 an ounce,
Platinum gained $40, or 3%, to $1,357 an ounce, and
Palladium soared $35, or 5.4%, to $678 an ounce
Second quarterly declines for London bullion fixings were 25.4% for gold, 34.1% for silver, 16.4% for platinum and 16.5% for palladium.
US Bullion Coin Sales in July
When counted by type and size, nine different bullion coins are available today from the United States Mint. It is extremely rare when all U.S. Mint bullion products move in a single day, but that is exactly what happened on Monday. In total ounces sold by the Mint on Monday:
Gold coins increased by 20,000, which is just 2,000 ounces shy of matching last week's solid total.
Silver coins climbed by 857,500 ounces, which is only 39,000 ounces away from last week's tally.
The following are daily, July and year-to-date bullion coin totals as published by the United States Mint.
American Eagle and Buffalo Bullion Coin Sales
Monday Sales
Last Week
Weekly / July Sales
YTD Sales
$50 American Eagle Gold Bullion Coins
12,000
12,500
12,000
556,500
$25 American Eagle Gold Bullion Coins
2,000
1,000
2,000
45,000
$10 American Eagle Gold Bullion Coins
2,000
4,000
2,000
88,000
$5 American Eagle Gold Bullion Coins
10,000
10,000
10,000
425,000
$50 American Buffalo Gold Bullion Coins
5,500
7,000
5,500
167,000
White Mountain 5 oz. Silver Bullion Coins
1,000
0
1,000
28,000
Perry's Victory 5 oz. Silver Bullion Coins
1,000
0
1,000
15,200
Great Basin 5 oz. Silver Bullion Coins
4,300
9,900
4,300
14,200
American Silver Eagle Bullion Coins
826,000
847,000
826,000
25,869,500
Figures above are in the number of coins sold, not in ounces.