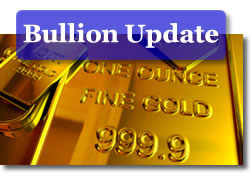 Gold rallied Thursday after a prior session loss which was assigned to the Fed's QE3-lacking statement. One day later, a weaker U.S. dollar, less cheerful U.S. jobless numbers and further time to reflect on possible Fed action proved bullish for precious metals.
"Although the Fed did not announce another round of easing, intentions to keep monetary policy at highly accommodative levels are a bullish case for gold prices," MarketWatch quoted James Steel, an analyst at HSBC Securities.

"The decline of gold prices on the Fed announcement was an overreaction," Steel said. "The ability of gold prices to bounce back is a good sign."
Gold prices for June delivery gained $18.20, or, 1.1%, to $1,660.50 an ounce on the Comex in New York. Intraday prices reached a low of $1,642.50 and a high of $1,662.00.
"The job market is softening, and the Federal Reserve may be forced to look at some form of easing," James Cordier, portfolio manager at OptionSellers.com in Tampa, Florida, said in a telephone interview that was relayed on Bloomberg. "Investors have started pricing that in."
Silver prices for May delivery jumped 85.1 cents, or 2.8%, to $31.207 an ounce. Silver prices moved between $30.595 and $31.260.
Platinum prices for July delivery advanced $22.90, or 1.5%, to $1,570.20 an ounce, ranging from $1,552.50 to $1,574.20.
Palladium prices for June delivery surged $17.55, or 2.7%, to $672.65 an ounce, trading between $656.25 and $674.80.
London Precious Metal
Precious metals in London were mixed. When comparing the most recent London PM fixings:
Gold added $15.75, or 1.0%, to $1,653.50 an ounce,
Silver prices declined 18.0 cents, or 0.6%, to $30.70 an ounce,
Platinum gained $4.00, or 0.3%, to $1,555.00 an ounce, and
Palladium fell $6.00, or 0.9%, to $659.00 an ounce
U.S. Mint Bullion Coins
For a third straight day, sales levels for U.S. Mint bullion coins were unchanged. The following are the available daily, April and year-to-date bullion coin sales totals as published by the U.S. Mint.
U.S. Mint American Eagle and Buffalo Bullion Coin Sales
Daily Gains
April Gains
YTD 2012
American Gold Eagles (1 oz.)
0
16,000
178,000
American Gold Eagles (1/2 oz.)
0
0
51,000
American Gold Eagles (1/4 oz.)
0
2,000
42,000
American Gold Eagles (1/10 oz.)
0
5,000
135,000
American Gold Buffalo Coin (1 oz.)
0
9,000
55,500
American Silver Eagles
0
1,280,000
11,419,000
America the Beautiful 5 Oz. Silver Bullion Coin Sales
Prior Weekly
Weekly Gains
All-Time Total
Olympic National Park 5 oz. Silver Coins
0
0
85,100
Vicksburg National Military Park 5 oz. Silver Coins
0
0
38,300
Chickasaw Park 5 oz. Silver Coins
0
0
28,900
TOTAL
0
0
152,300
All bullion coin sales in the above tables are in number of coins, not in the amount of ounces sold. The U.S. Mint last updated five ounce bullion silver coins sold on Monday, April 9.