Minting facilities from around the world are creating and releasing coins commemorating the upcoming 2012 Olympic Games to be held in London. The Perth Mint of Australia is no exception and has released 2012 Australian Olympic Team Coins in gold, silver and bronze.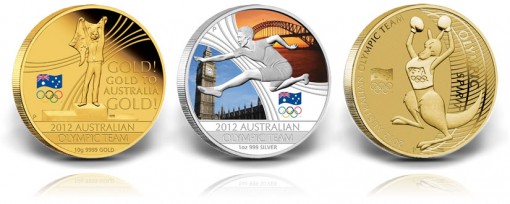 Olympic Games were originally held in Olympia, Greece and began in the 8th century BC and continued through the 5th century AD. However, the first modern Games were not held until 1896 at which time only 14 nations participated with only 241 athletes competing in just 43 events.
It is estimated that 204 nations will participate in this year's London Games with over 10,000 athletes competing in 302 events. The London Games are scheduled to begin on July 27 with an opening ceremony and will run through August 12.
To celebrate Australia's participation in the London Olympics, the Perth Mint struck the 2012 Australian Olympic Team 10g Gold Proof Coin with a reverse depicting an Olympic athlete holding an Australian flag aloft while standing on the winner's podium. The Australia Olympic team logo is also shown on the design along with the inscriptions of "2012 AUSTRALIAN OLYMPIC TEAM," "GOLD! GOLD TO AUSTRALIA! GOLD!" and "10g 9999 GOLD."
Also available is a 2012 Australian Olympic Team 1 oz. Silver Proof Coin which portrays an Olympic hurdler with a colorized background of Sydney's Harbor Bridge and London's Big Ben. Reverse inscriptions on the silver coin include "2012 AUSTRALIAN OLYMPIC TEAM" and "1oz 999 SILVER."
Available within a special 2012 Australian Olympic Team Three-Coin Set is the aforementioned gold coin, the silver coin but to a smaller one-half ounce size and a third coin composed of aluminum bronze. The 2012 Australia Olympic Team Bronze Proof Coin features Australia's iconic boxing kangaroo along with the official team logo. Also shown on the reverse of the bronze coin are the inscriptions of "2012 AUSTRALIAN OLYMPIC TEAM" and "OLYMPIC SPIRIT."
Australia Olympic Team Gold, Silver and Bronze Coin Specifications
| | | | | |
| --- | --- | --- | --- | --- |
|   | 10g Gold Proof | 1 oz Silver Proof | 1/2 oz Silver Proof | Bronze Proof |
| Metal Content (Troy oz.) | 0.322 | 1.0 | 0.5 | NA |
| Face Value | $60 | $1 | $0.50 | $1 |
| Fineness | 99.99 | 99.9 | 99.9 | NA |
| Minimum Gross Weight | 10.001 | 31.135 | 15.591 | 13.80 |
| Maximum Diameter (mm) | 22.50 | 40.60 | 36.60 | 30.60 |
| Maximum Thickness (mm) | 2.20 | 4.00 | 2.30 | 3.10 |
All reverses were designed by Wade Robinson. Shown on the obverse of the coins is the Ian Rank-Broadley effigy of Her Majesty Queen Elizabeth II.
The single gold proof is being offered by the Perth Mint for AUS $1,227 while the single silver proof is listed for a price of AUS $112. The three-coin set is currently available for AUS $1,323. Price may change daily based on the direction of the gold and silver markets.
For more information or to place an order, visit The Perth Mint website at www.perthmint.com.au.
See other Perth Mint coin highlights from this site's Australian Coin Guide.
About the Perth Mint
The Perth Mint wholly-owned by the State Government of Western Australia, is the official issuer of the Australian Federal Government's Gold and Silver Bullion Coin Program. The Mint opened in 1899 in response to the discovery of rich gold deposits in Coolgardie and Kalgoorlie. It was Australia's third branch of Britain's Royal Mint.