The latest releases in the Diamond Jubilee commemorative coin program from the Perth Mint of Australia feature two large gold and silver coins in proof qaulities.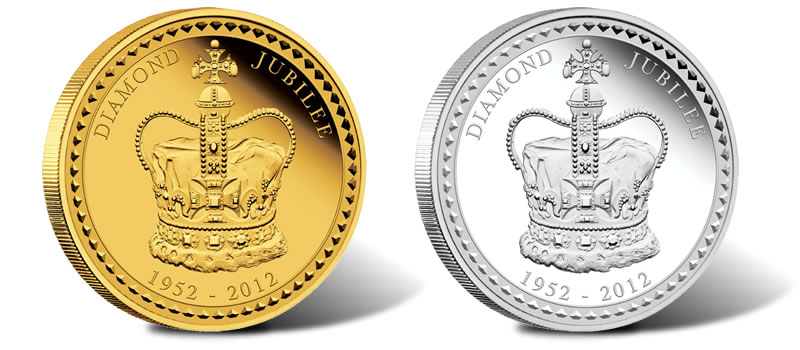 A Diamond Jubilee is a celebration marking 60 years of a British monarch's reign, and the last one occurred in 1897 for Queen Victoria. Celebrations for Queen Elizabeth II, who ascended to the throne in 1952, are taking place all over the United Kingdom and the Commonwealth.
"The Queen's Diamond Jubilee is a remarkable moment in history," explained Perth Mint Sales and Marketing Director Ron Currie, "and we're delighted to celebrate the Royal milestone with commemoratives that are quite literally crowning achievements."
Both gold and silver coins feature a reverse design of St. Edward's Crown with surrounding inscriptions, "DIAMOND JUBILEE," and, "1952 – 2012." On their obverse is the royal effigy of Queen Elizabeth II by Ian Rank-Broadley.
The coins went on sale early this week in very limited quantities. Up to 60 issues of the 1 kilo gold coin and up to 600 of the 1 kilo silver coin were authorized.
2012 Diamond Jubilee Kilo Gold Proof Coin
The 2012 Diamond Jubilee 1 Kilo Gold Proof Coin is minted from one kilo of 99.99% pure gold, or 32.151 troy ounces of gold, in proof quality.
Its massive diameter measures 75.60 mm across, and its thickness is 13.90 mm. Inscriptions on the obverse are, "ELIZABETH II," "AUSTRALIA," "1 KG 9999 GOLD," "2012," and, "3000 DOLLARS." Packaging includes a timber presentation case, a numbered Certificate of Authenticity, and a foiled and embossed shipper.
Pricing for the kilo gold piece changes daily based on the gold market. That latest price hovered around $57,000.
2012 Diamond Jubilee Kilo Silver Proof Coin
Made from one kilo of 99.9% pure silver, the 2012 Diamond Jubilee 1 Kilo Silver Proof Coin sports the same designs but with inscriptions surrounding the Queen's portrait stating, "ELIZABETH II," "AUSTRALIA," "1 KG 999 SILVER," "2012," and, "30 DOLLARS," on the obverse.
The diameter of the silver coin is slightly larger than the gold issue, at 100.60 mm with a thickness of 14.60 mm. It comes enclosed within a classic display case and foiled and embossed shipper. A numbered Certificate of Authenticity is also included.
The silver piece is currently listed in the $1,810 area.
Visit the Perth Mint website for more information about the coins or to place an order.
Ad Banner to Perth Mint Website

See other Perth Mint coin highlights from this site's Australian Coin Guide.
About the Perth Mint
The Perth Mint (www.perthmint.com.au) is the official issuer of the Australian Federal Government's Gold and Silver Bullion Coin Program. It was Australia's third branch of Britain's Royal Mint when it opened in 1899 (the others being the Sydney Mint and the Melbourne Mint, which are both now closed).
Ownership of the Perth Mint was transferred to the State Government of Western Australia in 1970 who still operates the facility today.