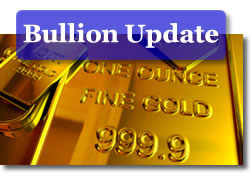 Gold declined slightly Monday as a stronger U.S. dollar provided pressure and stirred profit-taking following the metal's 2.9% advance last week.
"The gold market may be straddled between tame physical demand on the one hand and strong currency and investor risk-related buying on the other," said James Steel, chief commodity analyst at HSBC, reports Reuters. "Ultimately a bull market needs both in order to sustain a long-term rally," Steel added.
Gold prices settled down $1.50, or 0.1%, to $1,774.90 an ounce in the April futures contract on the Comex in New York. Gold moved through an intraday low of $1,762.60 and a high of $1,781.00.
Jon Nadler, Senior Analyst at Kitco Metals Inc., writes: "The G-20 meeting in Mexico City failed to produce a pledge by its attendees to chip in with half a trillion dollars' worth of fresh lending facilities for the IMF. The group signaled that if there is any new money to come from anyone to provide further help to Europe's now three-years-long crisis, it would have to be doled out only after the region reassesses its financial safeguards next month.

At that point, the next meeting of the G-20 in Washington DC during April might take up the expansion of the IMF's fund once again. The development left European stock markets on the defensive and it also made for a modest retreat in the euro this morning. That combination of trends bolstered the US dollar and resulted in fresh, albeit small-scale profit-taking in precious metals as well."
Silver prices for March delivery climbed 18.6 cents, or 0.5%, to $35.524 an ounce. Silver's intraday low and high brackets were $35.045 and $35.625, respectively. Silver prices soared 6.4% last week, making it the best performing precious metal. It was the only one to rise on Monday.
Platinum prices for April delivery dipped 80.0 cents to $1,714.30 an ounce, ranging from $1,693.00 to $1,719.90. Palladium prices for June delivery, the new most active contract, declined $5.40, or 0.8%, to $707.40 an ounce, ranging from $705.70 to $718.40. The noble metals scored respective advances of 5.0% and 3.3% last week.
London Precious Metals
London precious metals retreated in the week's start. When comparing the London PM fixings between Friday and Monday, gold lost $5.50 to $1,772.00 an ounce, silver fell 48.0 cents to $35.09 an ounce, platinum declined $8.00 to $1,706.00 an ounce, and palladium was down $7.00 for a second straight day to $707.00 an ounce.
U.S. Mint Bullion Coins
New gains in gold bullion coins were reported by the U.S. Mint on Monday following three straight days of silence. Rising 5,000 and for the first time in February was the Mint's smallest bullion coin, the tenth ounce American Gold Eagle. The largest one ounce piece also advanced but more modestly at 3,000. Rounding out gold bullion increases was the American Gold Buffalo, up 2,000.
After two consecutive days of zero additions, the U.S. Mint also reported that American Silver Eagle bullion sales grew by 170,000.
The following U.S. Mint bullion coin figures show the latest daily, monthly and year-to-date sales.
Sales of U.S. Mint American Eagle and Buffalo Bullion Coins
Daily Gains
Feb. Gains
YTD 2012
American Gold Eagles (1 oz.)
3,000
18,500
103,000
American Gold Eagles (1/2 oz.)
0
0
49,000
American Gold Eagles (1/4 oz.)
0
2,000
40,000
American Gold Eagles (1/10 oz.)
5,000
5,000
90,000
American Gold Buffalo Coin (1 oz.)
2,000
6,500
20,000
American Silver Eagles
170,000
1,420,000
7,527,000
Sales of America the Beautiful 5 Oz. Silver Bullion Coins
Prior Weekly
Weekly Gains
All-Time Total
Olympic National Park 5 oz. Silver Coin
0
0
84,600
Vicksburg National Military Park 5 oz. Silver Coin
0
0
37,300
Chickasaw Park 5 oz. Silver Coin
0
0
28,100
TOTAL
0
0
150,000
All bullion coin totals in the above tables are in the number of coins sold, not the amount of ounces. The latest five-ounce sales were provided by the U.S. Mint on Friday, January 27, 2012. The Mint does not publish daily sales figures for its five-ounce silver coins. However, since the last release date is four weeks past, there likely has not been new sales to report.