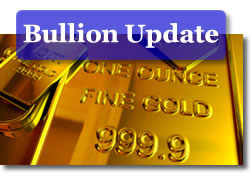 Gold declined Monday for a second straight session as a stronger U.S. dollar and a "risk-off" mentality pressured the yellow metal.
"People are in a risk-off mode today as investors are finding it very difficult to stomach the roller coaster ride in Greece," Rick Trotman, a senior research analyst at MLV & Co. in New York, said in a telephone interview that was relayed on Businessweek.
Gold prices fell $15.40, or 0.9% to $1,724.90 an ounce in the April futures contract on the Comex in New York. Gold moved between a low of $1,714.00 and a high of $1,740.90.
Gold traded lower Monday "due to dollar strength, oil weakness, and renewed short-term correlation with equities due to concerns about the intractable Greek debt crisis," MarketWatch quoted Mark O'Byrne, an executive director at GoldCore.
In other precious metals, silver prices for March delivery edged up a penny to $33.750 an ounce. Silver touched an intraday low of $32.985 and reached a high of $33.870.
Platinum prices for April delivery dipped $2.10, or 0.1%, to $1,629.80 an ounce, trading between $1,606.10 and $1,632.00.
Palladium prices for March delivery declined $2.90 or 0.4%, to $705.95 an ounce, ranging from $692.00 and $708.75.
Last week, gold and platinum each edged up 0.5%, silver was nearly unchanged and palladium surged 2.7%.
London Precious Metals
Precious metals fell across the board in London. When comparing the London PM fixings between Friday and Monday, gold lost $15.00 to $1,719.00 an ounce, silver fell 41.0 cents to $33.52 an ounce, platinum stepped back $21.00, or 0.6%, to $1,609.00 an ounce and palladium declined $15.00 to $696.00 an ounce.
U.S. Mint Bullion Coins
Sales of the U.S. Mint's most popular/major American Eagles rose Monday. The American Silver Eagle jumped 375,000 — 25,000 short of last week's entire total, and the one ounce American Gold Eagle rose 4,000. Also advancing on the day was the quarter once American Gold Eagle, up 2,000. The latest daily, February and year-to-date U.S. Mint bullion coin sales are provided below.
Sales of U.S. Mint American Eagle and Buffalo Bullion Coins
Daily Gains
Feb. Gains
YTD 2012
American Gold Eagles (1 oz.)
4,000
5,000
89,500
American Gold Eagles (1/2 oz.)
0
0
49,000
American Gold Eagles (1/4 oz.)
2,000
2,000
40,000
American Gold Eagles (1/10 oz.)
0
0
85,000
American Gold Buffalo Coin (1 oz.)
0
0
13,500
American Silver Eagles
375,000
470,000
6,577,000
Sales of America the Beautiful 5 Oz. Silver Bullion Coins
Prior Weekly
Weekly Gains
All-Time Total
Olympic National Park 5 oz. Silver Coin
0
0
84,600
Vicksburg National Military Park 5 oz. Silver Coin
0
0
37,300
Chickasaw Park 5 oz. Silver Coin
0
0
28,100
TOTAL
0
0
150,000
All bullion coin totals in the above tables are in the number of coins sold, not the amount of ounces. The latest five-ounce sales were provided by the U.S. Mint on Friday, January 27, 2012. The Mint does not publish daily sales figures for its five-ounce silver coins. However, since the last released date is more than two weeks past, there likely has not been new sales to report.