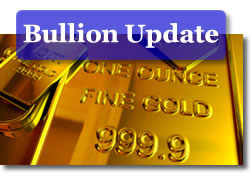 Precious metals rallied in the first trading day in the second quarter with gains of 0.5% for gold, 1.9% for silver, and 0.7% for platinum and palladium.
Gold prices for June Delivery advanced $7.80 to $1,679.70 an ounce on the Comex in New York. The yellow metal gained for a second session after rising 1.0% Friday and closing the first quarter 6.7% higher. For the day, gold prices moved between an intraday low of $1,664.40 and a high of $1,685.40
"Attempts to lift gold beyond resistance at $1,680 or $1,700 could still be in the cards this week, with a potential target of $1,730 or so," notes Jon Nadler, Senior Analyst at Kitco Metals Inc.

"On the support-side, the $1,650 and $1,620 levels are being cited as key numbers that need to hold. Overall, the speculative trade is still concerned about the potential slackening of physical gold demand from key consuming nations such as India and Turkey and about waning investment demand."
Silver prices for May delivery surged 61.4 cents to settle at $33.098 an ounce, ranging from $32.34 to $33.25.
Platinum prices for July delivery climbed $10.80 to $1,654.90 an ounce, trading between $1,640.50 and $1,659.90.
Palladium prices for June delivery added $4.70 to $658.80 an ounce, moving from $651.50 to $666.10.
London Precious Metals
London precious metals were about unchanged for silver to higher for gold, platinum and palladium. When comparing the most recent London PM fixings:
Gold tacked on $15.00, or 0.9%, to $1,677.50 an ounce,
Silver dipped one penny to $32.42 an ounce,
Platinum edged up $1.00, or 0.1%, to $1,641.00 an ounce, and
Palladium gained $5.00, or 0.8%, to $656.00 an ounce
Last week, London gold slipped 0.1%, silver advanced 2.8%, platinum declined 1.4% and palladium lost 1.1%.
U.S. Mint Bullion Coins
U.S. Mint distributors started April with orders for the smallest bullion coin and each of the Mint's one ounce bullion coins, according to the latest sales figures. Buyers grabbed a total of 5,000 ounces of gold coins and 195,000 ounces of silver coins.
The following are the most recent daily, April and year-to-date bullion coin totals as provided by the U.S. Mint.
Sales of U.S. Mint American Eagle and Buffalo Bullion Coins
Daily Gains
April Gains
YTD 2012
American Gold Eagles (1 oz.)
3,500
3,500
165,500
American Gold Eagles (1/2 oz.)
0
0
51,000
American Gold Eagles (1/4 oz.)
0
0
40,000
American Gold Eagles (1/10 oz.)
5,000
5,000
135,000
American Gold Buffalo Coin (1 oz.)
1,000
1,000
48,500
American Silver Eagles
195,000
195,000
10,334,000
Sales of America the Beautiful 5 Oz. Bullion Silver Coins
Prior Weekly
Weekly Gains
All-Time Total
Olympic National Park 5 oz. Silver Coins
200
0
85,100
Vicksburg National Military Park 5 oz. Silver Coins
200
0
38,300
Chickasaw Park 5 oz. Silver Coins
0
0
28,700
TOTAL
400
0
152,100
All bullion sales in the above tables are in number of coins sold, not in the amount of ounces sold. The U.S. Mint has not sold five ounce bullion silver coins since Monday, March 26.