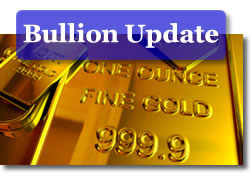 Gold advanced for a second day Wednesday as a weaker U.S. dollar supported gains. Gold prices edged up $4.30, or 0.3%, to $1,659.90 an ounce in the February futures contract on the Comex in New York. The closing price was the highest for the yellow metal since December 13.
"The dollar's weakness is supporting gold," David Meger, the director of metal trading at Vision Financial Markets in Chicago, said in a telephone interview that was relayed on Bloomberg. Meger added that "gold is facing technical resistance at the $1,660 level."
Gold was pressured early in a bout of profit-taking following Tuesday's near $25 pick-up. Prices reached as low as $1,642.10 before recovering and then rising as high as $1,662.90.
Silver prices for March delivery advanced 40.8 cents, or 1.4%, to $30.543 an ounce, ranging from $29.740 to $30.590.
Platinum prices for April delivery shed $3.40, or 0.2%, to $1,525.30 an ounce, trading between $1,505.30 and $1,530.40. Palladium prices for March delivery gained $13.00, or 2.0%, to $668.50 an ounce, ranging from $646.45 to $672.95.
London Precious Metals
Earlier fixed London precious metals declined across the board. When comparing the London fixings on Wednesday (PM) from those on Tuesday (PM), gold fell $9.00 to $1,647.00 an ounce, silver prices dipped 26.0 cents to $30.15 an ounce, platinum lost $16.00 to $1,507.00 an ounce, and palladium declined $10.00 to $646.00 an ounce.
U.S. Mint Bullion Coins
U.S. Mint buyers ordered three types of bullion coins Wednesday.
After surging 525,000 on Tuesday, the Mint's American Silver Eagle advanced with a much more modest increase of 50,000.
Half ounce American Gold Eagles soared 26,000, more than doubling the amount ordered through the first 17 days of the year. At 46,000 for January, the monthly level is the highest since December 2009.
One ounce American Gold Eagles gained 3,000, lifting its January total of 67,500 over December's tally of 65,500 and attaining the best monthly total since September's 87,500.
The latest daily and year-to-date U.S. Mint bullion coin sales follow:
Sales of U.S. Mint American Eagle and Buffalo Bullion Coins
Daily Gains
January/YTD 2012
American Gold Eagle Coin (1 oz.)
3,000
67,500
American Gold Eagle Coin (1/2 oz.)
26,000
46,000
American Gold Eagle Coin (1/4 oz.)
0
32,000
American Gold Eagle Coin (1/10 oz.)
0
75,000
American Gold Buffalo Coin (1 oz.)
0
9,500
American Silver Eagles
50,000
5,172,000
Sales of America the Beautiful 5 Oz. Silver Bullion Coins
Prior Weekly
Weekly Gains
All-Time Total
Olympic National Park 5 oz. Silver Coin
500
0
84,600
Vicksburg National Military Park 5 oz. Silver Coin
0
2,000
36,300
Chickasaw Park 5 oz. Silver Coin
0
500
27,400
TOTAL
0
2,500
148,300
All bullion coin totals in the above tables are in the number of coins sold, not the amount of ounces. The United States Mint does not provide daily sales for its 5-ounce silver coins, and weekly changes are therefore reported. The latest 5-ounce figures are current as of Tuesday, January 17, 2012.