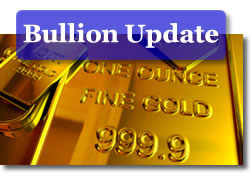 Gold futures retreated nearly $10 Tuesday, slicing away almost one-third of the previous day's gains as investors awaited a Slovakian vote on approving the European Union bailout fund.
"There is an incredible amount of headline risk at the moment because of the unclarity behind all the news out of the EU that may underpin gold or cause gold to sell off," Reuters quoted Fred Schoenstein, precious metals trader of Heraeus Precious Metals Management. "There is no real clear direction in which gold should trade."
Gold prices declined $9.80, or 0.6 percent, to settle at $1,661.00 an ounce in the December futures contract on the Comex in New York. Prices ranged from an intraday low of $1,655.40 to $1,686.70.
Silver prices for December delivery advanced 1.8 cents, or 0.1 percent, to close at $31.998 an ounce. Silver traded between $31.350 and $32.580.
Platinum prices for January delivery declined $6.30, or 0.4 percent, to $1,518.80 an ounce, ranging from $1,511.10 to $1,547.50.
Palladium prices for December delivery ended down $10.00, or 1.6 percent, to $604.30 an ounce, trading between $597.85 and $619.00.
London Precious Metals Fixings
As in New York futures, earlier London precious metals prices were mixed as well when comparing PM fixings on Tuesday to those on Monday. The London gold Fix advanced $2.00 to $1,663.00 an ounce, silver prices declined 86.0 cents to $31.37 an ounce, platinum added $1.00 to $1,514.00 an ounce, and palladium declined $10.00 to $602.00 an ounce.
U.S. Mint Bullion Coin Sales
U.S. Mint bullion coin sales totals were unchanged from Friday as of 4:13 p.m. ET on Tuesday. The latest daily, monthly and year-to-date bullion coin sales figures follow:
Sales of U.S. Mint American Eagle and Buffalo Bullion Coins
Daily
Gains
October
Gains
YTD
2011
Gold Eagle Coin (1 oz.)
0
21,500
781,500
Gold Eagle Coin (1/2 oz.)
0
2,000
64,000
Gold Eagle Coin (1/4 oz.)
0
4,000
76,000
Gold Eagle Coin (1/10 oz.)
0
0
345,000
Gold Buffalo Coin (1 oz.)
0
5,000
137,500
Silver Eagles (1 oz.)
0
1,662,000
35,073,500
Sales of America the Beautiful 5 Oz. Silver Bullion Coins*
YTD
2011
Gettysburg National Military Park 5 oz. Silver Coin
126,700
Glacier National Park 5 oz. Silver Coin
126,700
Olympic National Park 5 oz. Silver Coin
82,200
Vicksburg National Military Park 5 oz. Silver Coin
30,500
Chickasaw Park 5 oz. Silver Coin
20,500
TOTAL
388,600
*The Gettysburg and Glacier America the Beautiful Five Ounce Silver Bullion Coins are sold out. Unlike other investment-grade products, the United States Mint does not provide daily per coin sales totals for the Olympic, Vicksburg, and Chickasaw America the Beautiful Five Ounce Silver Bullion Coins. The individual totals are as of Monday, October3. The overall year-to-date total is current as of Monday, October 10 (4,800 of the five ounce coins have sold in October, with 2,000 added last week).