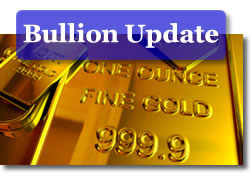 Gold prices advanced to a one-month high Wednesday on news of better-than-expected demand from China and despite a stronger U.S. dollar. Reports say China imported 102,799 kilograms of gold in November from 86,299 kilograms in October. The monthly amount was an all-time high.
"What is particularly bullish about the import data is that there is a ban on exporting gold from China so gold bullion is in strong hands in China," GoldCore analysts said in a note cited on MarketWatch.
Gold prices rose $8.10, or 0.5%, to $1,639.60 an ounce in the February futures contract on the Comex in New York. Gold's settlement price was the highest since December 13. Gold prices moved within a fairly narrow range, touching a low at $1,630.80 and reaching a high at $1,648.00. Gains in gold could be stalled should the greenback continue to advance, according to Mark Arbeter, chief technical strategist at S&P Capital IQ.
"The strength of the dollar has not been friendly to commodities markets in the past couple of years. As long as the dollar is in an uptrend, I wouldn't be too positive on gold at this point," Arbeter was quoted on Reuters.
Silver prices for March delivery settled up 7.5 cents, or 0.3%, to $29.890 an ounce. Silver traveled between $29.545 and $30.235.
Platinum prices for April delivery leapt $33.10, or 2.3%, to $1,497.70 an ounce, trading between $1,463.50 and $1,501.50.
Palladium prices for March delivery tacked on $10.45, or 1.6%, to $645.65 an ounce, ranging from $632.00 to $649.00.
London Precious Metals
London precious metals were mixed Wednesday, having been fixed earlier in the day. When comparing the London fixings on Wednesday (PM) from those on Tuesday (PM), gold prices dipped $2.50 to $1,634.50 an ounce, silver gained 12.0 cents to $29.89 an ounce, platinum advanced $27.00 to $1,489.00 an ounce and palladium declined $5.00 to $638.00 an ounce.
U.S. Mint Bullion Coins
Sales levels for U.S. Mint bullion coins were unchanged Wednesday following a furious few days of gains. The latest daily and year-to-date U.S. Mint bullion coin sales figures follow:
Sales of U.S. Mint American Eagle and Buffalo Bullion Coins
Daily Gains
January/YTD 2012
American Gold Eagle Coin (1 oz.)
0
59,000
American Gold Eagle Coin (1/2 oz.)
0
17,000
American Gold Eagle Coin (1/4 oz.)
0
30,000
American Gold Eagle Coin (1/10 oz.)
0
75,000
American Gold Buffalo Coin (1 oz.)
0
7,500
Silver Eagles
0
4,257,000
Sales of America the Beautiful 5 Oz. Silver Bullion Coins
Weekly Gains
Total
Olympic National Park 5 oz. Silver Coin
500
84,600
Vicksburg National Military Park 5 oz. Silver Coin
0
34,300
Chickasaw Park 5 oz. Silver Coin
0
26,900
TOTAL
500
145,800
All bullion coin totals in the above tables are in the number of coins sold, not the amount of ounces. The United States Mint does not always provide daily sales figures for its 5-ounce silver coins. Those sales are current as of Monday, January 9, 2012.