The Royal Canadian Mint announced the scheduled September release of a 2011 RCMP gold bullion coin honoring the Royal Canadian Mounted Police. Details of the bullion coin were provided along with an announcement of the 2012 Cougar silver bullion coin, the third in a chain of six coins in its Canadian Wildlife series.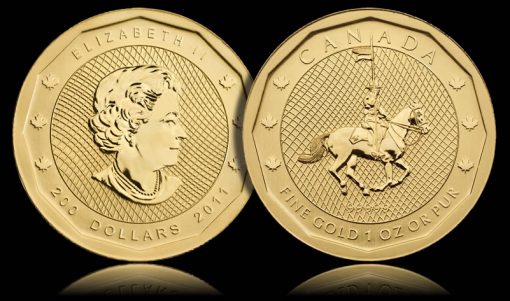 Both coins represent the artistry and the purity for which the Royal Canadian Mint is known. This includes the Cougar bullion coin having a composistion of .9999 (99.99%) fine silver and the RCMP Gold bullion coin struck from .99999 (99.999%) pure gold.
"Issuing products which stand out in the competitive bullion industry has helped the Mint achieve a reputation as the source of the world's purest and most innovative bullion coins and we are pleased that these new coins continue providing customers our trademark quality and purity," stated Ian E. Bennett, President and CEO of the Royal Canadian Mint.
The 2011 RCMP gold bullion coin marks the fourth annual strike in a series of pure gold coins from the Royal Canadian Mint.
Former Master Engraver Ago Aarand designed the image on the reverse which shows a Royal Canadian Mounted Police officer astride his horse, riding at full gallop. The image is surrounded by the inscriptions of CANADA, FINE GOLD, 1 OZ, OR PUR.
The obverse of the $200 face value bullion coin also features the Susanna Blunt effigy of Her Majesty Queen Elizabeth II along with inscriptions indicating the face value and the year of minting.
Royal Canadian Mint bullion coins are not offered directly to the public, but instead through a network of bullion dealers at market rates close to the current trading price of the precious metals they contain.
For more information on the Royal Canadian Mounted Police, visit the official site at http://www.rcmp-grc.gc.ca/.
About the Royal Canadian Mint
The Royal Canadian Mint is the Crown Corporation responsible for the minting and distribution of Canada's circulation coins. An ISO 9001-2008 certified company, the Mint is recognized as one of the largest and most versatile mints in the world, offering a wide range of specialized, high quality coinage products and related services on an international scale. For more information on the Mint, its products and services, visit www.mint.ca.