The Royal Canadian Mint is proud to announce that investors world-wide can now buy the 2011 Silver Wolf Bullion Coin; the first in a new series of Canadian Wildlife silver 9999 fine one-ounce bullion coins.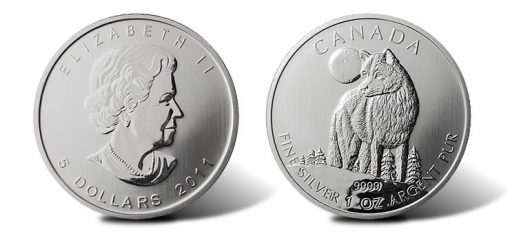 The Mint's Ottawa facility will produce one million coins showcasing this theme and will introduce a minimum of two annual issues over the next three years. These exciting new silver bullion coins will be priced on the same market rate as the Mint's world-famous Silver Maple Leaf bullion coin.
"The Royal Canadian Mint is renowned world-wide for the quality, purity and design of its silver bullion coins and we are excited that that the 2011 "Wolf" coin enhances the profile of our silver bullion product family in a very competitive market," said Ian E. Bennett, President and CEO of the Royal Canadian Mint.

"Distinctly Canadian themes such as nature and wildlife are popular among silver buyers, especially in Europe, and we are very pleased that the one million coin mintage has been fully allocated to our distributors."
The reverse "Wolf" silver bullion coin is struck from one ounce of 99.99% pure silver and bears a $5 face value. The wolf design is the work of Senior Mint Engraver William Woodruff. The obverse features the effigy of Her Majesty Queen Elizabeth II, created in 2003 by Canadian portrait artist Susanna Blunt.
The 2011 "Wolf" silver bullion coin are available through the Mint's extensive network of bullion dealers. The next issue in this six-coin series will be announced in early 2011.
About the Royal Canadian Mint
The Royal Canadian Mint is the Crown Corporation responsible for the minting and distribution of Canada's circulation coins. An ISO 9001-2008 certified company, the Mint is recognized as one of the largest and most versatile mints in the world, offering a wide range of specialized, high quality coinage products and related services on an international scale. For more information on the Mint, its products and services, visit www.mint.ca.