The Royal Canadian Mint has recently announced details about the 2011 Grizzly Silver Bullion Coin, the second issue of what has proven to be an extremely popular three year, six coin Canadian Wildlife bullion series.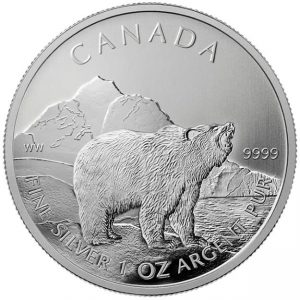 The official launch for the Grizzly Coin was held by the Mint at the World Money Fair in Berlin, Germany on January 28, 2011. This auspicious occasion allowed it to introduce the new strike to many of the premier coin buyers, distributors and producers of the world.
Featured on the reverse of the silver bullion coin is a mature Grizzly Bear appearing as if to roar and standing on all four paws on the edge of a body of water. The reverse also includes the inscriptions of CANADA, 9999, FINE SILVER, 1 OZ, ARGENT PUR and the initials WW for the designer, Senior Mint Engraver William Woodruff.
"The Royal Canadian Mint is proud to release the second coin in a uniquely Canadian pure silver bullion series that is sure to stand out in today's competitive market," said Ian E. Bennett, President and CEO of the Royal Canadian Mint.  "Wildlife and nature are themes that resonate with buyers of Royal Canadian Mint products and we are pleased to offer bullion investors a product which exceeds expectations in terms of quality as well as design."
Struck as legal tender of Canada, the obverse of the Grizzly Silver Bullion Coin contains the effigy of Her Majesty Queen Elizabeth II. This portrait was originally created in 2003 by artist Susanna Blunt.
Coins in the series are each struck from one ounce of 99.99% pure silver with the first release occurring last September. That 2011 Silver Wolf Bullion Coin paved the way for this new issue.
The entire mintage of 1 million coins has already been accounted for by the Royal Canadian Mint's network of bullion distributors. They will begin selling the new Grizzly strike later this year at a price in accordance with the Mint's staple bullion coin — the Canadian Silver Maple Leaf.
A total of four more wildlife themed coins will be released in the series with two annual issues appearing in 2012 and the final two in 2013.