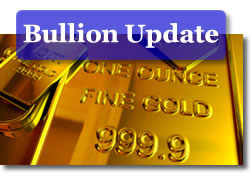 U.S. gold futures retreated Tuesday as investors grabbed profits after the yellow metal soared past $1,900 an ounce and to an all-time record high. Gold had gained $149.30, or 8.6 percent, in the previous six sessions. Its loss on Tuesday breaks a streak of five straight records.
"In the same way that the world became over-reliant on the U.S. dollar as a reserve currency, I think we should exercise a bit of caution in becoming over-reliant on gold," Reuters quoted Simon Weeks, head of precious metals at the Bank of Nova Scotia in London. "I don't think it needs to be as high as it is at the moment."
December gold prices declined $30.60, or 1.6 percent, to $1,861.30 an ounce on the Comex in New York. Prices ranged from $1,851.90 to an all-time record high of $1,917.90.
"The very thing that gold is supposed to mitigate against to a certain extent (volatility) is the attribute it has taken on of late, noted Jon Nadler, Senior Analyst at Kitco Metals Inc. "This is a paradigm we might have to learn to live with for a while however. It is not like the spec funds have turned to 'greener' pastures elsewhere just yet."
September silver prices dropped $1.034, or 2.4 percent, to $42.291 an ounce, ranging from $42.040 to $44.275.
Platinum prices for October delivery declined $25.60, or 1.3 percent, to close at $1,880.10 an ounce. Prices moved between $1,876.80 and $1,918.50.
Palladium prices for September delivery retreated 70.0 cents, or 0.1 percent, to settle at $764.40 an ounce. Prices traded from $758.80 to $768.70.
London Precious Metals Prices
Earlier London precious metals prices moved mostly lower. Palladium was the exception. When comparing London PM fixing prices from Tuesday over Monday, gold fell $1.50 to $1,876.00 an ounce, silver prices declined 61.0 cents to $42.88 an ounce, and platinum dropped $1.00 to $1,886.00 an ounce. Palladium matched its previous day increase with a pick-up of $6.00 to $762.00 an ounce.
U.S. Mint Bullion Coin Sales
Sales levels for United States Mint bullion coins were unchanged from Monday as of 3:23 p.m. ET.
In other United States Mint news, although gold and silver prices declined, their single day losses fell short of the Friday and Monday gains which resulted in the bureau's recent halt in gold coin sales and its silver set suspensions.
The following daily, August and year-to-date United States Mint bullion coin sales are as of 3:53 p.m. ET.
Sales of US Mint American Eagle and Buffalo Bullion Coins
Daily
Gains
August
Gains
YTD
2011
Gold Eagle Coin (1 oz.)
0
84,000
653,000
Gold Eagle Coin (1/2 oz.)
0
3,000
61,000
Gold Eagle Coin (1/4 oz.)
0
4,000
68,000
Gold Eagle Coin (1/10 oz.)
0
45,000
310,000
Gold Buffalo Coin (1 oz.)
0
21,500
113,000
Silver Eagles (1 oz.)
0
2.6995M
27.971M
Sales of America the Beautiful 5 Oz. Silver Bullion Coins*
YTD
2011
Gettysburg National Military Park 5 oz.
126,700
Glacier National Park 5 oz.
126,700
Olympic National Park 5 oz.
80,700
Vicksburg National Military Park 5 oz.
27,500
Chickasaw Park 5 oz.
15,200
TOTAL
380,400
*The Gettysburg and Glacier America the Beautiful Five Ounce Silver Bullion Coins are sold out. Unlike other investment-grade products, the United States Mint does not provide daily per coin sales totals for the Olympic, Vicksburg, and Chickasaw America the Beautiful Five Ounce Silver Bullion Coins. Their individual totals are as of August 2. The five ounce combined coin totals above (last line) are as of August 22.