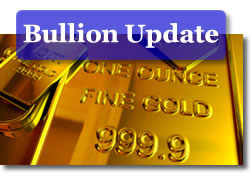 U.S. gold futures declined Monday, falling from a record close as lawmakers moved toward a debt deal and despite a bounce initially received after a report showed poor activity in the manufacturing sector.
"There is some short-term relief as the risk of an imminent default does seem to have been avoided," Caroline Bain, senior commodities economist at the Economist Intelligence Unit, was quoted on Reuters. "But very soon the market will start to factor in that there isn't that much being done with the fiscal deficit and concerns will re-emerge."
December gold prices declined $9.50, or 0.6 percent, to close at $1,621.70 an ounce on the Comex in New York. Gold traded between an intraday low of $1,608.20 and a high of $1,634.50. Gold settled to a record on Friday at $1,631.20 an ounce, lifting its gain in July to $128.40.
"There still remains some pessimism that the deal could fall at the last hurdle," James Moore, an analyst at TheBullionDesk.com in London, said in a report cited on Bloomberg. "But given the scale of gains posted in recent weeks, the yellow metal is vulnerable to a deeper correction should the deal be given full approval."
September silver prices dropped 79.7 cents, or 2.0 percent, to settle at $39.309 an ounce. Silver ranged between $39.040 and $40.070. Jim Wyckoff of Kitco Metals Inc. wrote the following of silver in the Monday Kitco Metals Roundup:
"December silver futures prices closed nearer the session low Monday and saw more profit-taking pressure. The key "outside markets" were bearish for gold silver, as the U.S. dollar index was higher and the crude oil prices were lower. Bulls are beginning to fade a bit and need to show fresh power soon. The silver bulls still have the overall technical advantage.

Bulls' next upside price objective is producing a close above solid technical resistance at last week's high of $41.47 an ounce. The next downside price breakout objective for the bears is closing prices below solid technical support at $38.26.

First resistance is seen at $40.00 and then at $40.41. Next support is seen at Monday's low of $39.08 and then at $38.92. Wyckoff's Market Rating: 6.0."
Platinum prices for October delivery advanced $9.30, or 0.5 percent, to close at $1,794.60 an ounce. Prices traded between $1,779.00 and $1,804.90.
Palladium prices for September delivery gained $1.80, or 0.2 percent, to settle at $829.50 an ounce. Intraday prices moved from $827.90 to $850.20.
London fixings for gold and silver moved lower while platinum and palladium surged higher. London Fix price comparisons between Monday (PM) and Friday (PM) show that gold declined $5.50 at $1,623.00 an ounce and silver fell 32.0 cents to $39.310 an ounce. Bucking the trend, platinum rose $19.00 at $1,798.00 an ounce and palladium advanced $18.00 at $842.00 an ounce.
In a somewhat rare occurrence, all American Eagle and Buffalo United States Mint bullion coins sold on Monday. As is often normal, the .999 fine American Silver Eagle coin jumped the most with an increase of 258,500. Other bullion coin sales advances were much more modest, as is also typical. On a notable front simply because they were not sold at all in July — their only monthly zero standing in 2011, the one-quarter ounce American Gold Eagle rose 2,000.
The latest United States Mint bullion product sales figures follow:
US Mint American Eagle and Buffalo Bullion Coin Sales
Daily
Gains
July
2011
August
2011
YTD
2011
Gold Eagle Coin (1 oz.)
3,000
61,500
3,000
572,000
Gold Eagle Coin (1/2 oz.)
1,000
3,000
1,000
59,000
Gold Eagle Coin (1/4 oz.)
2,000
0
2,000
66,000
Gold Eagle Coin (1/10 oz.)
5,000
15,000
5,000
270,000
Gold Buffalo Coin (1 oz.)
500
12,000
500
92,000
Silver Eagle Bullion Coin (1 oz.)
258.5K
2.968M
258.5K
25.53M
America the Beautiful 5 Oz. Silver Bullion Coin Sales*
YTD
2011
Gettysburg National Military Park 5 oz.
126,700
Glacier National Park 5 oz.
126,700
Olympic National Park 5 oz.
80,700
Vicksburg National Military Park 5 oz.
24,500
Chickasaw Park 5 oz.
10,800
*The Gettysburg and Glacier America the Beautiful Five Ounce Silver Bullion Coins are sold out. The United States Mint does not provide daily per coin sales totals for the Olympic, Vicksburg, and Chickasaw America the Beautiful Five Ounce Silver Bullion Coins as it does for its other investment-grade products. The individual numbers above are as of Wednesday, July 27.