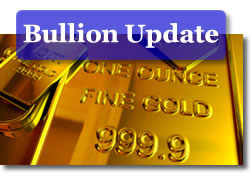 U.S. gold futures ended lower Thursday, stepping back from two straight days of record settlements and an earlier intraday record that was 10 cents shy of $1,685 an ounce. Thursday's equities sell off was blamed for both gold and silver losses. U.S. stocks suffered their worst day since the 2008 financial crisis, forcing investors to sell bullion profits in order to meet margin calls.
"A lot of people are being forced to exit their equity positions, and they're turning to gold to cover their losses," Matthew Zeman, a strategist at Kingsview Financial in Chicago, said in a telephone interview that was cited on Bloomberg.
December gold prices declined $7.30, or 0.4 percent, to $1,659.00 an ounce on the Comex in New York. Gold touched an intraday low of $1,642.20 and reached the intraday record high at $1,684.90.
"When you get outside markets down significantly, some investors liquidate their winning positions in the gold and silver market longs to raise margins and support their losing trades," Phillip Streible, senior market strategist with futures broker MF Global, said according to Reuters.
September silver prices plunged $2.327, or 5.6 percent, to close at $39.431 an ounce, swinging between $39.180 and $42.295. Jim Wyckoff of Kitco Metals Inc. wrote the following of silver in the Thursday Kitco Metals Roundup:
"December silver futures prices closed nearer the session low Thursday after hitting another fresh three-month high of $42.31 early on. Prices then reversed course in late morning to drop sharply and produce a bearish "outside day" down on the daily bar chart and hit a fresh three-week low.

The key 'outside markets' were very bearish for silver Thursday, as the U.S. dollar index was sharply higher and the crude oil market was sharply lower. Some near-term chart damage was inflicted in silver Thursday. A bearish weekly low close on Friday would produce more chart damage to then suggest a near-term market top is in place.

The silver bulls do still have the overall technical advantage, but a four-week-old uptrend on the daily bar chart was negated Thursday. Bulls' next upside price objective is producing a close above solid technical resistance at today's high of $42.31 an ounce.

The next downside price breakout objective for the bears is closing prices below solid technical support at $37.00. First resistance is seen at $39.50 and then at $40.00. Next support is seen at Thursday's low of $38.50 and then at $38.00. Wyckoff's Market Rating: 5.5."
Platinum prices for October delivery dropped $55.60, or 3.1 percent, to settle at $1,729.40 an ounce. Platinum ranged between $1,718.00 and $1,795.60.
Palladium prices for September delivery plummeted $42.15, or 5.3 percent, to close at $752.95 an ounce. Palladium traded from $742.50 to $799.00.
London precious metals were mixed when comparing their fixings on Thursday (PM) from Wednesday (PM). London gold prices added $10.25 at $1,679.50 an ounce, silver advanced 58.0 cents to $41.620 an ounce, platinum declined $29.00 at $1,753.00 an ounce and palladium dropped $25.50 at $782.50 an ounce.
The United States Mint published gains across nearly all of its American Eagle bullion coins. In 22-karat Gold Eagles, the one-ounce size advanced 2,000 and the half-ounce size rose 1,000. The .999 fine Silver Eagle toggled its sales higher by 169,500. The Mint's purest 24-karat Gold Buffalo added 500.
The latest available bullion coin totals are shown in the following two tables:
US Mint American Eagle and Buffalo Bullion Coin Sales
Daily
Gains
July
2011
August
2011
YTD
2011
Gold Eagle Coin (1 oz.)
2,000
61,500
9,000
578,000
Gold Eagle Coin (1/2 oz.)
1,000
3,000
2,000
60,000
Gold Eagle Coin (1/4 oz.)
0
0
2,000
66,000
Gold Eagle Coin (1/10 oz.)
0
15,000
10,000
275,000
Gold Buffalo Coin (1 oz.)
500
12,000
2,500
94,000
Silver Eagle Bullion Coin (1 oz.)
169,500
2.968M
428K
25,699,500
America the Beautiful 5 Oz. Silver Bullion Coin Sales*
YTD
2011
Gettysburg National Military Park 5 oz.
126,700
Glacier National Park 5 oz.
126,700
Olympic National Park 5 oz.
80,700
Vicksburg National Military Park 5 oz.
27,500
Chickasaw Park 5 oz.
15,200
TOTAL
376,800
*The Gettysburg and Glacier America the Beautiful Five Ounce Silver Bullion Coins are sold out. Unlike other investment-grade products, the United States Mint does not provide daily per coin sales totals for the Olympic, Vicksburg, and Chickasaw America the Beautiful Five Ounce Silver Bullion Coins. The five ounce coin totals above are as of Tuesday, August 2.