The United States Mint on Thursday, August 18, 2011, ceremoniously released the Rutherford B. Hayes Presidential $1 Coin and also began selling rolls of the dollars for $39.95 each, plus shipping and handling.
Each of the rolls contains 25 circulation quality coins, and buyers have a choice of rolls coming from the United States Mint facility in Philadelphia or Denver. The Mint's wrapping paper is specially designed in black and white to feature the mint of origin ("P" or "D"), "Presidential $1 Coin," the president's name and "$25," which is the face value of its contents.
The United States Mint produces four different Presidential Dollars annually as part of the United States Mint Presidential $1 Coin Program that started in 2007. The latest dollar is the 19th in the series and number three in 2011. It was preceded by Presidents Andrew Johnson and Ulysses S. Grant. The last dollar to appear this year will honor James Garfield.
By law the U.S. Mint program (http://www.usmint.gov/mint_programs/$1coin/) is scheduled to run through at least 2016, although certain members of Congress recently proposed legislation that would end the series early.
$1 Coin Design
On the obverse is the president's portrait and the inscriptions, "RUTHERFORD B. HAYES," "IN GOD WE TRUST," "19TH PRESIDENT" and "1877-1881." The reverse features the Statue of Liberty and the inscriptions, "UNITED STATES OF AMERICA" and "$1."
Designing and sculpting both sides of the coin was United States Mint Sculptor-Engraver Don Everhart.
The coin's edge contains the inscriptions "2011," "E PLURIBUS UNUM" and the mint of origin.
Ordering 2011 Rutherford B. Hayes Presidential Dollar Rolls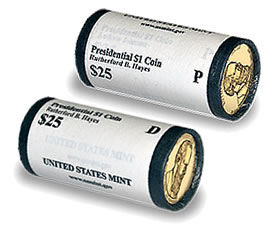 The dollar rolls may be purchased from the US Mint at http://www.usmint.gov/catalog or at 1-800-USA-MINT (872-6468). Hearing and speech-impaired customers may order by calling 1-888-321-MINT (6468).
New dollars are also available through the United States Mint Online Subscription Program. Presidential $1 Coin Two-Roll Sets are $79.90 per unit and has a face value of ($50). The program is structured similar to a magazine subscription, to help collectors keep their Presidential Dollar collection current.
Hayes Dollar Circulation Release and Ceremony
Also, the United States Mint hosted the Hayes dollar launch ceremony and coin exchange Thursday morning at the Rutherford B. Hayes Presidential Center in Spiegel Grove located in Fremont, Ohio, while the Federal Reserve Banking System began releasing his dollars into public circulation.
"The Presidential $1 Coin series connects us to the wellspring of our nation's greatness and the many stories that unite us," said Marc Landry, Acting Associate Director of Manufacturing at the United States Mint. "One of those stories is captured at Spiegel Grove, the beautiful place where President Rutherford B. Hayes retired from elected office but remained a dedicated public servant, helping veterans, improving prisons and fighting for universal education."
Finding new coins in pocket change, however, usually takes quite a long time, so there are alternatives.
United States Mint Products with Hayes Dollar
In addition to the 25-coin rolls, the dollars are and will be available in several other collectible products, including:
2011 Proof Set (issued)
2011 Silver Proof Set (issued)
2011 Uncirculated Mint Set (issued)
2011 Presidential $1 Coin Proof Set (issued)
2011 Presidential $1 Coin Uncirculated Set (issued)
2011 Presidential $1 Coin & First Spouse Medal Set (September 22)
2011 Rutherford B. Hayes $1 Coin Cover (October 4)
Rutherford B. Hayes Bio Brief
Rutherford B. Hayes graduated from Harvard Law School and later served as an officer in the Army during the Civil War. Despite being wounded in action more than once, he was elected to the House of Representatives in 1865 and later served three terms as the Governor of Ohio between 1867 and 1876.
Winning the Presidency during the election of 1876 was quite controversial, as he lost the national popular vote but won by one vote in the Electoral College. His term lasted from 1877-1881 and he did not run for re-election. Upon retiring from office, he returned to the Spiegel Grove Estate, his home in Fremont, Ohio. He died in January 1893 at the age of 70.