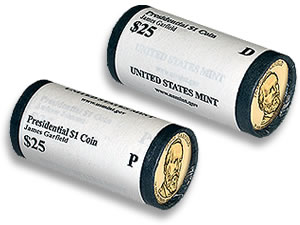 Another new $1 coin was released into circulation today, November 17, 2011. This one honors James A. Garfield, the 20th President. In addition, the United States Mint launched the James Garfield Presidential dollar at a special ceremony at 10 AM Eastern Time, followed by a coin exchange, and then it started selling $25 rolls at noon.
U.S. Mint-wrapped $25 Garfield Presidential rolls are $39.95 each, plus $4.95 for shipping and handling. Buyers have the choice of dollars struck at either Denver or Philadelphia. Information for each is available at the Mint's online store located at http://www.usmint.gov/catalog.
Customers may also place orders by calling 1-800-USA-MINT (872-6468). Hearing and speech-impaired customers may call 1-888-321-MINT (6468).
$1 Coin Design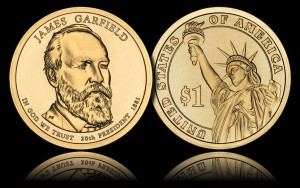 Phebe Hemphill designed and sculpted Garfield's portrait on the obverse or heads side of the dollar coin. It also includes the inscriptions "JAMES GARFIELD," "IN GOD WE TRUST," "20TH PRESIDENT" and "1881."
Don Everhart designed and sculpted the common reverse or tails side of each of the Presidential $1 Coins in the series. It depicts the Statue of Liberty. Inscriptions are "UNITED STATES OF AMERICA" and "$1."
Edge lettering on the sides of the current dollar shows the year of issue, mint mark, and "E PLURIBUS UNUM."
2011 Garfield Presidential Dollar Ceremony
The United States Mint celebrated the new coin this morning in a special ceremony on the grounds of Lawnfield, the name given to Garfield's home by reporters in 1880 for its large front lawn. (See the National Park Service page: James A. Garfield National Historic Site.) The home is located at 8095 Mentor Avenue in Mentor, Ohio.
"The Presidential $1 Coin series connects Americans to inspiring life stories like President Garfield's," commented Marc Landry, United States Mint Acting Associate Director for Manufacturing.  "He was the last President born in a log cabin, fatherless by the age of two, drove canal boat teams to earn money for college, became a classics professor and college president, rose to brigadier general in the Civil War, and enjoyed a long, distinguished career in the U.S. Congress." 
The event also included a keynote address from Dr. Allan Peskin, Professor Emeritus of History at Cleveland State University and author of Garfield, a biography of Garfield's military career, the congressional years, and his Presidency.
Children 18 and under at the ceremony received a free $1 coin, while older attendees paid cash to obtain rolls of the Garfield dollar at the coin exchange immediately following the ceremony.
James Garfield Bio Brief
James Garfield was born in a log cabin in Cuyahoga County, Ohio, on November 19, 1831. He graduated from Williams College in Massachusetts in 1856 and taught as a professor at Western Reserve Eclectic Institute (later Hiram College) in Ohio before becoming Principal of the Institute. Also during his academic years, he briefly preached at church as an ordained minister.
On November 11, 1858, he married Lucretia Rudolph and together they had seven children. Following the wedding, Garfield was elected to the Ohio Senate and served between 1859 and 1861. Later, he entered the Union Army as a Colonel during the Civil War and was promoted to Brigadier General in January 1862. Two years later he became a Major General of volunteers.
In October 1862 he was elected to the U.S. House of Representatives, where he served for 18 years. The presidential election came in 1880, and he entered office the following year.
During his career, he did what he could to fight political corruption, and he advocated civil rights for African Americans. His presidential term, however, was cut short. On July 2, 1881, Charles J. Guiteau shot Garfield, and Garfield later died on September 19.
2011-2012 Presidential Dollars
The preceding 2011 dollars honor former Presidents Andrew Johnson, Ulysses S. Grant, and Rutherford B. Hayes. The James Garfield Presidential Dollar is the last release of this year.
The first of the 2012 dollars, for Chester Arthur, is scheduled for public release via the Federal Reserve Banking System on February 16, 2012. The other $1 coins will feature the portraits of former Presidents Grover Cleveland, Benjamin Harrison and Grover Cleveland.