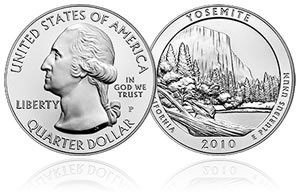 Yosemite National Park Five Ounce Silver Uncirculated Coins are not sold out and household order limits have been removed, the United States Mint said Tuesday.
Yosemite Five Ounce Silver Uncirculated Coins remain available for more than a month since their June 9 launch. The first two coins in the series sold out in about two weeks. It appeared the third Yosemite issue did as well when on June 23 the United States Mint indicated its orders were maxed and that new ones would be added to a waiting list — processed only if an old order was canceled. However, the waiting list notice was in error. The Mint described what happened on Tuesday.
"The 2010 America the Beautiful Five Ounce Silver Uncirculated Coins™ — Yosemite National Park are not sold out. Unfortunately, however, a message saying that a waitlist for the coins had been put into place was inadvertently posted to the United States Mint's online catalog on June 23. As soon as we learned the message had been posted, we removed it. We also lifted the household order limits for these coins the week of July 4. We regret the error on our part and the inconvenience the posting of the waitlist language caused our customers."
Buyers raced to purchase Yosemite Five Ounce Silver Uncirculated Coins just as they did for the first two issues honoring Hot Springs National Park and Yellowstone National Park. At $279.95 each, 20,511 of the available 27,000 Yosemite coins were purchased in the first four days. At the two-week mark, the aforementioned waiting list notice was placed on the coin's online product page. While it was added in error, the notice likely suppressed potential new orders. The very latest United States Mint sales figures as of Sunday show 25,338 of the coins have sold, leaving 1,662 or 6.6 percent remaining.
In related news, the fourth coin in the series, the Grand Canyon National Park Five Ounce Silver Uncirculated Coin, was released on June 29. Their sales are at 20,834.
Each coin in the series includes five ounces of .999 fine silver, has a diameter of 3.0 inches, and a thickness of 0.165 inches. The obverse and reverse share the same designs as the corresponding America the Beautiful Quarter minted for circulation. However, while the quarters have a reeded edge the five ounce coins have edge letterings of ".999 FINE SILVER 5.0 OUNCE."
The Grand Canyon and Yosemite National Park Five Ounce Silver Uncirculated Coins may be purchased through the United States Mint website located at http://catalog.usmint.gov/. Grand Canyon's one coin per household order limit remains.