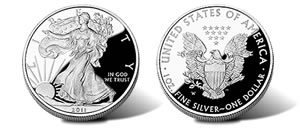 The United States Mint released the 2011 Proof American Silver Eagle coin on June 30 for $59.95. Effective Friday at noon (ET), the United States Mint removed their order limits. As has been tradition, the coins have launched over the years with initial order limits that help get them into as many buyers' hands as possible.
The 2011 Proof Silver Eagle had a rather generous limit of 100, meaning up to 100 of the .999 fine silver coins could be purchased per household. As such, removing the order limits should only affect buyers like dealers who resell the Eagles.
In that vein, the United States Mint also said the silver pieces would be available in its Bulk Purchase Program. According to the Mint's website, the program enables "registered purchasers" to receive a five percent discount on orders of $5,000 or more. Qualifications to join the program include appropriate licenses and at least five years in business as a coin dealer.
The Proof Silver Eagle is the Mint's most popular numismatic/collector coin. Six day sales of the coins hit 367,623 and by day twelve buyers had scooped up nearly 408,000.
The United States Mint has not indicated how many of the Eagles it will offer this year. The 2010 Proof Silver Eagle sold out with sales of 860,000. Traditionally, demand dictates annual mintages. If supply holds up, the demand could easily make this year's issue versus previous years a leader or the leader in annual sales.
In addition to its brilliant, mirror-like finish, the collector proof coin features the West Point "W" mint mark. United States Mint bullion coins, like the companion 2011 Bullion Silver Eagles, do not have the mint mark nor special collectible finishes.
The coins may be ordered directly from the Mint at http://usmint.gov/ or via 1-800-USA-MINT (872-6468).