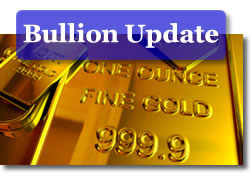 U.S. gold and silver prices ended sharply lower Thursday as the U.S. dollar rallied and crude oil prices sank.
August gold prices tumbled $32.90, or 2.1 percent, to close at $1,520.50 an ounce on the Comex in New York, breaking away from a string of seven straight session gains which had lifted prices up $38.80 since June 13. Prices ranged between $1,515.00 and $1,549.60.
"The precious metals are suffering from the strength of the dollar. It looks like a classic risk-off market, and what you are seeing today is complete inverse correlation with the dollar," Jeffrey Sherman, commodities portfolio manager of DoubleLine Capital, was quoted on Reuters.
The International Energy Agency announced Thursday that it will release emergency oil stockpiles to counter the loss of oil from Libya.
"If we are getting 60 million barrels of new crude oil into the global market, then the inflationary story is really taking a beating today, thus gold indirectly gets hit, too," Richard Hastings, a macro strategist at Global Hunter Securities, was quoted on MarketWatch.
Silver prices for July delivery plummeted $1.737, or 4.7 percent, to settle at $35.002 an ounce. Silver prices traded between $34.800 to $36.360. The loss takes a chunk out of the metal's gains this year, which is now 13.1 percent. Jim Wyckoff of Kitco Metals Inc. noted the following Thursday:
"July silver futures prices closed nearer the session low Thursday, but no serious chart damage occurred. However, the bulls did fade badly Thursday and follow-through selling pressure and a bearish weekly low close on Friday would likely produce near-term chart damage. Silver bulls still have the overall near-term technical advantage.

The next downside price breakout objective for the bears is closing prices below solid technical support at the June low of $34.40. Bulls' next upside price objective is producing a close above solid technical resistance at this week's high of $36.77 an ounce. First resistance is seen at $35.50 and then at $36.00. Next support is seen at Thursday's low of $34.80 and then at $34.00. Wyckoff's Market Rating: 5.0."
Platinum prices for July delivery declined $57.90, or 3.3 percent, to close at $1,694.50 an ounce. They moved between a low of $1,689.20 and a high of $1,747.50.
Palladium prices for September delivery fell $27.30, or 3.5 percent, to settle at $743.35 an ounce. Palladium prices ranged between $741.00 and $766.50.
Silver moved higher in London as other precious metals declined. When comparing London fix prices on Thursday (PM) from those on Wednesday (PM), gold declined $29.50 to $1,523.00 an ounce, silver rose 10.0 cents at $36.010 an ounce, platinum fell $42.00 to $1,707.00 an ounce, and palladium declined $23.50 at $744.00 an ounce.
The United States Mint reported increased sales of its American Silver Eagle. The bullion coin rose 30,000 on the day, bringing it within 3,000 of 21.5 million for the year. No other bullion coins advanced, as shown in the following table:
US Mint 2011 Bullion Coin Sales
Daily
Gains
June
2011
YTD
2011
Gold Eagle Coin (1 oz.)
0
38,500
490,000
Gold Eagle Coin (1/2 oz.)
0
0
55,000
Gold Eagle Coin (1/4 oz.)
0
4,000
60,000
Gold Eagle Coin (1/10 oz.)
0
25,000
240,000
Gold Buffalo Coin (1 oz.)
0
2,000
76,000
Silver Eagle (1 oz.)
30,000
2.5955M
21.497M
ATB Silver Bullion (5 oz.)*
0
0
326,800
*ATB Silver bullion coin sales figures are not published by the Mint daily. The current figure has an "as of date" of June 17.