New York precious metals jumped off a cliff Thursday and hit the ground hard. Silver, gold and platinum plunged 13 percent, 4.8 percent and 4.9 percent, respectively. Precious metals weren't lonely in their fall. U.S. stocks tumbled while oil lost 4.6 percent.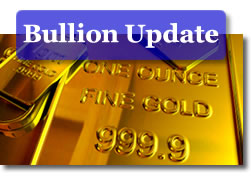 In fact, markets on the whole moved lower over economic concerns that were further aggravated by today's news of rising U.S. jobless claims and falling factory orders.
November crude oil dropped $4.56 to $93.97 per barrel. It ended toward its intraday low of $93.88.
December silver plunged $1.65 to close to $11.12 an ounce.
October platinum lost $50.10 to end at $979.60 an ounce.
December gold fell $43 to settle at $844.30 an ounce.
"Gold fell pretty hard on this day that was supposed to be more like a waiting period between storms. The best thing that can be said about today's washout is that: a) the breach of $825 did not take place, and b) that other markets fell just about as hard, and some, a lot harder," said senior analyst Jon Nadler at Kitco Bullion Dealers.

"Perhaps it is time to wrest this whole thing away from politicians and get going on our own. Everyone is growing tired of hanging around counting the votes on a piece of paper designed to rescue children's wooden arrows for an excise tax," continued Nadler.
The Senate approved the $700 billion financial-bailout plan Wednesday. The House is poised to vote on the rescue Friday.
Gold generally follows oil's direction and moves opposite to the U.S. dollar, as a weakened dollar encourages investors to buy gold, also considered a hedge or safe-haven during times of high inflation and economic uncertainty.
Check out CoinNews market resources at Live Silver, Gold & Platinum Spots, the Silver Coin Calculator and the Inflation Calculator.