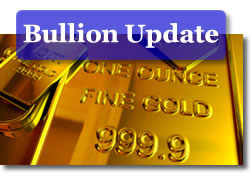 U.S. gold and silver stepped further back Thursday as the U.S. dollar gained strength and after CME Group Inc. announced another series of steeper trading requirements. Gold dropped 2.2 percent while silver prices plummeted 8.0 percent and to a more than six-week low.
June gold prices lost $33.90 to $1,481.40 an ounce on the Comex in New York. Gold hit an intraday low of $1,476.80 and a high of $1,522.10.
Silver prices for July delivery declined $3.148 to close at $36.240 an ounce — the lowest closing level since March 21. Silver traded between $35.600 and $39.565.
"You're talking about a very volatile market, a very significant run up in a very short period of time," Michael Cuggino, who helps manage $12 billion at Permanent Portfolio in San Francisco, said according to Bloomberg. "It went too high too fast, and exacerbating it on the downside is the increased margin requirements."
The volley of CME margin hikes, including the upcoming one set for Monday, will make it 84 percent more expensive to trade in silver.
Silver prices have fallen $12.36, or 25.4 percent, this week — the biggest collapse since 1983. Previous day losses include:
The metal remains 17.1 percent higher on the year.
Platinum prices for July delivery lost $48.10, or 2.6 percent, to settle at $1,778.20 an ounce. Platinum ranged between $1,755.60 and $1,832.80. In regards to platinum, Jon Nadler, Senior Analyst at Kitco Metals Inc., noted the following in his Thursday Kitcommentary.
"The latest in GFMS-sourced data indicates that the PGM niche is setting up for some interesting times ahead. In a nutshell, here are the relevant statistical and fundamentals-oriented GMFS finding for platinum:

Platinum registered a gross surplus of almost one million ounces in 2010, which represents an increase of 10% to the highest level in GFMS' 12-year data series and it was the sixth consecutive year of a gross surplus being recorded.

There was a 16% rise in demand for platinum auto catalyst-related fabrication in 2010, but that offtake was well below pre economic crisis levels as sluggish recovery in Europe's diesel sales was noted.

Chinese jewellery demand fell and it contributed to an overall 17% decline in platinum offtake for that sector.

Supplies of scrapped jewellery and scrapped auto catalysts grew by 30 and by 15 percent, respectively, as higher prices drew metal from such sources into the marketplace.

Platinum did benefit from lavish attention coming from ETFs and the trend made for a gain in prices last year, despite the growing surplus in the market.

GMFS projects a further sizeable gross surplus for 2011 in platinum, on account of rising mine supply.

Price projections made by GFMS see platinum possibly touching a high north of $1,900 before year-end.

We will have palladium statistics on offer for you in tomorrow's commentary."
Palladium prices for June delivery ended down $35.90, or 4.8 percent, to $710.80 an ounce. Palladium hit a low of $697.20 and a high of $753.00.
London precious metals prices declined as well, but slightly less severe when comparing their PM fixings on Thursday from those on Wednesday. The PM gold fix was lower by $30.00 at $1,511.00 an ounce. Silver lost $2.450 at $37.840 an ounce. In PGM metals, platinum declined $39.00 at $1,802.00 and palladium fell $31.00 at $729.00 an ounce.
United States Mint bullion coins were unchanged from Wednesday, as illustrated in the following bullion coin sales table.
US Mint 2011 Bullion Coin Sales
Daily
Gains
May
2011
YTD
2011
American Eagle Gold Coin (1 oz)
0
18,500
376,500
American Eagle Gold Coin (1/2 oz)
0
10,000
43,000
American Eagle Gold Coin (1/4 oz)
0
2,000
54,000
American Eagle Gold Coin (1/10 oz)
0
5,000
205,000
American Buffalo Gold Coin (1 oz)
0
3,000
61,500
American Eagle Silver (1 oz)
0
701,000
15,949,000
2011 ATB Silver Bullion Coins (5 oz)
0
12,400
237,800