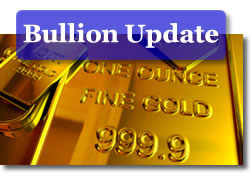 Gold prices advanced above $1,550 an ounce on Wednesday, extending a consecutive winning streak to seven sessions. The yellow metal has jumped $37.80 since June 13 and reached a seven-week high despite strength in the U.S. dollar.
August gold prices settled up $7.00, or 0.5 percent, to $1,553.40 an ounce on the Comex in New York. The metal moved from a low of $1,542.00 to a high of $1,559.30 — its best level since May 2. Gold prices have advanced 9.3 percent in 2011.
"Gold is in a unique position of being able to go higher, despite a stronger dollar, which is a very bullish signal," Matthew Zeman, a strategist at Kingsview Financial in Chicago, was cited on Bloomberg. "A lot of nations are running deficits that are not sustainable in the long run. There comes a point where people just don't believe in paper currencies."
Silver prices for July delivery rose 36.0 cents, or 1.0 percent, to close at $36.739 an ounce. They ranged from $35.895 to $36.770. Silver prices have rallied 18.8 percent this year. Jim Wyckoff of Kitco Metals Inc. noted the following on Wednesday:
"Silver bulls have the overall near-term technical advantage. The next downside price breakout objective for the bears is closing prices below solid technical support at the June low of $34.40. Bulls' next upside price objective is producing a close above solid technical resistance at $37.86 an ounce. First resistance is seen at Wednesday's high of $36.77 and then at $37.00. Next support is seen at $36.00 and then at $35.665. Wyckoff's Market Rating: 6.0."
Platinum prices for July delivery climbed $5.20, or 0.3 percent, to $1,752.40 an ounce. The metal traded between $1,742.00 and $1,758.20.
Palladium prices for September delivery rose $3.40, or 0.4 percent, to close at $770.65 an ounce. Palladium prices touched a low of $761.00 and reached a high of $776.00.
London precious metals prices were mixed Wednesday, as all but silver moved higher. When comparing London fix prices on Wednesday (PM) from those on Tuesday (PM), gold prices rose $7.75 to $1,552.50 an ounce, silver declined 31.0 cents at $35.910 an ounce, platinum climbed $9.00 to $1,749.00 an ounce, and palladium rose $6.50 at $767.50 an ounce.
One-ounce American Eagle bullion coins rose Wednesday. United States Mint buyers grabbed 2,500 of the Gold Eagles and 75,000 of the Silver Eagles. With the increases, the American Gold Eagle has reached an even 490,000 in 2011 sales while the American Silver Eagle is 33,000 short of 21.5 million for the year. Also advancing (+1,000) was the American Gold Buffalo. Its sales are at 76,000 for the year.
The latest United States Mint bullion coin sales figures follow:
US Mint 2011 Bullion Coin Sales
Daily
Gains
June
2011
YTD
2011
Gold Eagle Coin (1 oz.)
2,500
38,500
490,000
Gold Eagle Coin (1/2 oz.)
0
0
55,000
Gold Eagle Coin (1/4 oz.)
0
4,000
60,000
Gold Eagle Coin (1/10 oz.)
0
25,000
240,000
Gold Buffalo Coin (1 oz.)
1,000
2,000
76,000
Silver Eagle (1 oz.)
75,000
2.5655M
21.467M
ATB Silver Bullion (5 oz.)*
0
0
326,800
*ATB Silver bullion coin sales figures are not published by the Mint daily. The current figure has an "as of date" of June 17. Check out the CoinNews.net bullion coin page for information on any of the above coins.