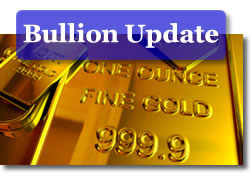 U.S. gold and silver futures prices rose for a second straight day on Tuesday, with gold climbing 0.7 percent and silver jumping 2.2 percent. Platinum lengthened its string of daily gains to four with a pick-up of 1.4 percent while palladium rallied 4.5 percent, advancing for the first time since Wednesday.
February gold prices rose $10.20 to settle at $1,384.30 an ounce on the Comex in New York. They ranged from $1,372.40 to $1,386.80. The apparent never-ending saga of European debt woes was the main catalyst cited for spurring save-haven precious metals buying.
"The market is very concerned about the way Europe is evolving financially," Bernard Sin, the head of currency and metal trading at bullion refiner MKS Finance SA in Geneva, said and was quoted on Bloomberg. The prospect of another bailout "translates into people seeking safe-haven refuge, especially in gold and silver."
Silver prices for March delivery surged 63.8 cents to $29.499 an ounce. They ranged from $29.060 to $29.710.
Platinum prices for April delivery added $25.20 to $1,770.30 an ounce. Platinum ranged between $1,740.00 and $1,774.30. Its four-day rally is the longest in five weeks.
Palladium prices for March delivery soared $34.10 to $783.75 an ounce. Palladium ranged from $753.00 to $787.10.
In PM London bullion prices, the benchmark gold Fix was $1,374.00 an ounce for an increase of $5.75 from the previous PM fixing. London silver advanced 75 cents to $29.540 an ounce. Platinum was $1,758.00 an ounce for a pick-up of $16.00. Palladium was $778.00 an ounce, up $25.00.
Sales levels of all United States Mint bullion coins remained unchanged Tuesday. They did advance on Monday, however. The one-ounce Gold Eagle rose by 5,000 to 32,500 for the year and the Silver Eagle surged 1.136 million to 3.357 million for the year. The .999 fine silver bullion coins are on pace to thrash the same period prior year sales of 3,592,500. The following are the latest U.S. Mint bullion coin sales figures:
U.S. Mint 2011 Bullion Coin Sales*
Daily Gain
January Totals
American Eagle Gold Coin (1 oz)
0
32,500
American Eagle Gold Coin (1/2 oz)
0
0
American Eagle Gold Coin (1/4 oz)
0
0
American Eagle Gold Coin (1/10 oz)
0
1,000
American Buffalo Coin (1 oz)
Not Yet Offered
American Eagle Silver (1 oz)
0
3,357,000
*The U.S. Mint one-ounce bullion gold and silver 2011 American Eagles launched on January 3. However, the Mint has remaining inventory of the 2010-dated eagles still in vaults. As a result, figures above are coin sales for this year and not solely 2011-dated coins sold.
In other United States Mint bullion coin news, the annual sales figures are in for 2010. There are two CoinNews.net articles on the subject:
In summary, the bullion Silver Eagles best ever sales year was in 2010, despite a slowdown in December. Buyers ordered 34,662,500 during the year, surpassing the previous 2009 record of 28,766,500.
The Gold Eagles dipped in December and from the previous year, but 2010 still ranked as the sixth best year for the 22-karat coins with 1,220,500 ounces sold.
Both series were introduced by the United States Mint in 1986.