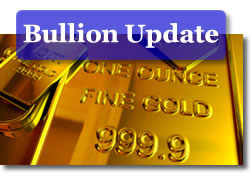 Precious metals futures rose Tuesday. Gold prices advanced for a sixth straight day, again, opined analysts, supported by safe-haven buying due to Greek debt concerns. A weaker U.S. dollar also spurred appeal for the yellow metal.
August gold prices rose $4.40, or 0.3 percent, to settle at $1,546.40 an ounce on the Comex in New York. Prices ranged between $1,539.30 and $1,549.00.
"Gold has been split between taking its cue from the changes in sovereign risk, but today the sovereign risk has declined and the euro … has rallied and gold is choosing to track the euro more than it is the reduction in sovereign risk," James Steel, chief commodities analyst at HSBC, said according to Reuters.

"There has been no agreement reached among the EU, IMF and Greece on a bailout package. Officials are now saying it will be mid-July before any agreement is reached," wrote Jim Wyckoff of Kitco Metals Inc. "Safe-haven buying interest continues to underpin the precious metals, and especially gold, as the EU sovereign debt saga continues."
Silver prices for July delivery settled up 30.8 cents, or 0.9 percent, to $36.379 an ounce. Silver prices traded between $35.665 and $36.540.
Platinum prices for July delivery rose $16.70, or 1.0 percent, to close at $1,747.20 an ounce. They moved from a low of $1,734.90 to a high of $1,750.00.
Palladium prices for September delivery rallied $19.05, or 2.5 percent, to settle at $767.25 an ounce. Prices ranged between $746.20 and $768.25.
London precious metals prices moved higher as well. When comparing London fix prices on Tuesday (PM) from those on Monday (PM), gold edged up 75.0 cents to $1,544.75 an ounce, silver rose 64.0 cents at $36.220 an ounce, platinum added $13.00 to $1,740.00 an ounce, and palladium shot up $23.00 at $761.00 an ounce.
Bullion coin activity remained calm, without new sales published Tuesday by the United States Mint. The latest figures follow:
US Mint 2011 Bullion Coin Sales
Daily
Gains
June
2011
YTD
2011
Gold Eagle Coin (1 oz.)
0
36,000
487,500
Gold Eagle Coin (1/2 oz.)
0
0
55,000
Gold Eagle Coin (1/4 oz.)
0
4,000
60,000
Gold Eagle Coin (1/10 oz.)
0
25,000
240,000
Gold Buffalo Coin (1 oz.)
0
1,000
75,000
Silver Eagle (1 oz.)
0
2.4905M
21.392M
ATB Silver Bullion (5 oz.)*
0
0
326,800
*ATB Silver bullion coin sales figures are not published by the Mint daily. The current figure has an "as of date" of June 12.