A 1795 Flowing Hair Dollar and huge Gold Nugget lead Heritage June 2011 Long Beach Auction.
Silver dollars and golden treasures are among the most important highlights of Heritage Auctions' Official Auction of the June 2011 Long Beach Expo, with floor sessions held June 2-3 at the Long Beach Convention Center in Long Beach, CA.
"For more than a decade, Heritage has been the Official Auctioneer of the Long Beach Expo," said Greg Rohan, President of Heritage. "We've put together another great catalog for this year's summer installment with close to 2300 lots ready to cross the auction block."
The major highlight of the first auction session is a 1795 Flowing Hair, Two Leaves dollar, BB-20 variety, graded an astounding MS65 by NGC and pedigreed to Jascha Heifetz and The Cardinal Collection.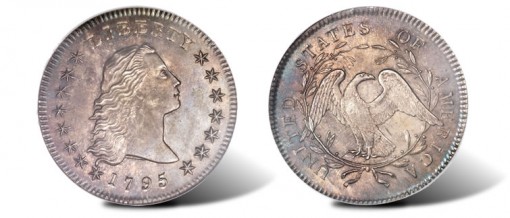 "This is one of the finest Flowing Hair silver dollars ever certified, regardless of the die variety," said Rohan. "Many issues of much later coins are practically unknown at that grade level. To have a coin as large as a silver dollar survive more than two centuries and be so well-preserved is an incredibly rare event."
A later silver dollar, and 1895 Morgan dollar graded PR67 Ultra Cameo NGC, is the premier rarity of the second session.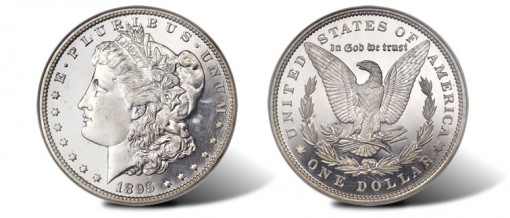 "The 1895 Morgan dollars have intrigued collectors for well over a century," said Rohan. "Mint records state that 12,000 business strikes were produced, but no such coin is known today. Just 880 proof coins are known, and thousands upon thousands of Morgan dollar collectors are chasing the same pieces, especially high-quality coins such as this."
The third and final floor session, which contains patterns, gold coins, and related items, has the highest concentration of important rarities. One of the earliest is an 1879 Flowing Hair Stella in gold, Judd-1635 variety, graded PR63 Cameo PCGS Secure with CAC sticker.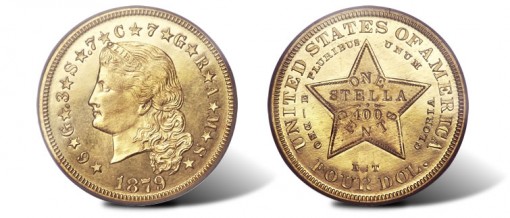 Stellas, the famous 19th century trial pieces with a denomination of $4, are a perennial favorite among a wide cross-section of U.S. coin collectors. The scarce and in-demand issue is a highlight whenever an example comes up for auction, and this time is no exception.
The very next lot, a 1795 half eagle with Small Eagle reverse, BD-2 variety, graded MS64 NGC, is very rare, and just a few dozen examples are known with this MS64 survivor among the best.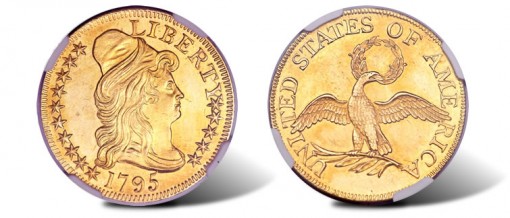 The 1795 half eagles with the Small Eagle reverse are of great historic importance as a group, for they were the first gold coins struck by the U.S. government under the authority of the Mint Act of April 2, 1792.
A 20th century gold rarity is a 1921 double eagle graded AU53 by NGC. The vast majority of the 1921 double eagles minted were never released and later destroyed by the government, but a tiny percentage of the coins were distributed.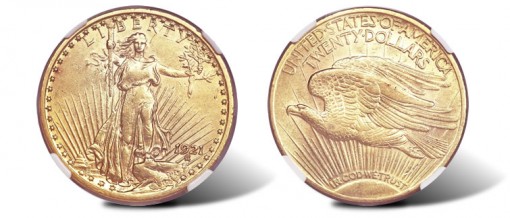 Some made their way to Europe, including the present example.
"This coin has a great story behind it," said Rohan. "It came to us from a consignor in eastern Europe. The coin had been in his family since the late 1920s, and he inherited it from his grandmother, who had kept it hidden away during several decades of oppressive Communist rule. When the consignor researched the coin on the Internet, he learned that it was a rare date, and he was able to consign it to Heritage through an expert from one of our European offices."
The last lot scheduled to sell in the floor sessions — though by no means the least — is an Australian gold nugget weighing 82.4 troy ounces. Though many large nuggets were found during the great Australian gold rushes of the 19th century, most were melted down, their history as natural artifacts lost.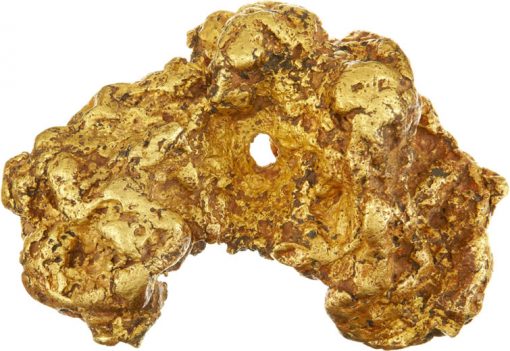 This nugget is a 20th century discovery that came to light after a rainstorm, which washed away the last of the soil covering it. It was found by a person who was walking alongside a road and tripped over it — literally stumbling across a fortune in gold.
Additional Heritage June 2011 Long Beach Auction highlights include, but are not limited to:
1880 Shield nickel, MS64+ PCGS: One of the best-preserved examples of the rarest date in the business strike Shield nickel series.
1836 Lettered Edge half dollar, O-101 variety, PR63 NGC: An extremely rare proof striking of the last Capped Bust, Lettered Edge half dollar issue, formerly part of the prestigious Eliasberg Collection.
1915-S Panama-Pacific Fifty Dollar Round, MS64 NGC, CAC: One of just 483 examples sold for this largest and rarest of classic commemorative issues.
1855 gold dollar, PR62 Cameo NGC: An extremely rare example of a proof Type Two gold dollar, one of just seven to 10 pieces known.
1808 Capped Bust Left quarter eagle, BD-1 variety, AU58 NGC: A scarcely worn example from the only year of the Capped Bust Left quarter eagle design.
1877 three dollar gold, MS64 PCGS: An important condition rarity, one of just 1,468 business strikes produced, and pedigreed to the legendary Harry W. Bass, Jr. Collection.
About Heritage Auctions
Heritage Auctions, headed by Steve Ivy, Jim Halperin and Greg Rohan, is the world's third largest auction house, with annual sales more than $600 million, and 500,000+ registered online bidder members. For more information about Heritage Auctions, and to join and gain access to a complete record of prices realized, along with full-color, enlargeable photos of each lot, please visit HA.com.