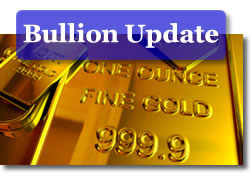 U.S. gold futures on Monday closed to a five-week low and below $1,500 an ounce for the first time since mid May. The decline marked a third-straight, and came on the heels of a week where the yellow metal fell 2.5 percent.
August gold prices fell $4.50, or 0.3 percent, to $1,496.40 an ounce on the Comex in New York Friday — the lowest closing price since May 19. Gold prices traded between $1,490.80 and $1,506.10.
"Gold as a commodity is going down," Frank Lesh, a broker and futures analyst with FuturePath Trading in Chicago said, according to MarketWatch. "The flight-to-safety trade is still alive and well, just being overtaken right now by the commodity-related selling."
"There might be some people who say the correction is done," Viral Shah, vice president at Geojit Comtrade Ltd. in Mumbai," was quoted on Bloomberg. "We are at the lower end of the range so probably we will see some bounces. There is a lot of interest to buy gold at lower prices."
Silver prices for July delivery declined $1.053, or 3.0 percent, to $33.585 an ounce. Silver traded from a low of $33.380 to a high of $34.330.
"The underlying Greek and euro zone question keeps constant demand for hard assets such as gold but silver still looks very vulnerable," Miguel Perez-Santalla, vice president of sales at Heraeus Precious Metals Management, was quoted on Reuters.
Platinum prices for July delivery ended down $4.60, or 0.3 percent, to settle at $1,673.00 an ounce. Platinum prices hit a low of $1,666.20 and a high of $1,694.00.
Palladium prices for September delivery fell $6.90, or 0.9 percent, to close at $724.60 an ounce. They ranged between $721.10 and $735.60.
London bullion prices were lower as well. When comparing London Fix prices on Monday (PM) from those on Friday (PM), gold declined $16.75 to $1,498.00 an ounce, silver lost 72.0 cents at $34.01 an ounce, platinum fell $17.00 to $1,679.00 an ounce, and palladium declined $15.00 at $724.00 an ounce.
United States Mint bullion coins enjoyed their typical first day of the week sales bounce, although the increase for American Silver Eagles showed up at nearly half of the normal Monday level. However, all other bullion coins, minus the one-half ounce American Gold Eagle, advanced. That is more of a rare occurrence in recent months.
The latest United States Mint bullion coin sales figures follow. The totals are for coins sold, not ounces.
US Mint 2011 Bullion Coin Sales
Daily
Gains
June
2011
YTD
2011
Gold Eagle Coin (1 oz.)
7,000
48,500
500,000
Gold Eagle Coin (1/2 oz.)
0
0
55,000
Gold Eagle Coin (1/4 oz.)
4,000
8,000
64,000
Gold Eagle Coin (1/10 oz.)
10,000
35,000
250,000
Gold Buffalo Coin (1 oz.)
1,500
4,000
78,000
Silver Eagle (1 oz.)
352,500
2.948M
21.8495M
ATB Silver Bullion (5 oz.)*
0
0
326,800
*America the Beautiful (ATB) Silver bullion coin sales figures are not published by the United States Mint daily. The current figure has an "as of date" of June 17.