The United States Mint on Thursday provided 2011 Proof Gold Eagle mintages, product limits, potential prices and the release date for all the 22-karat Gold Eagle coins.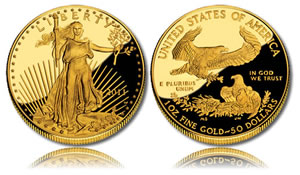 Available 2011 Proof Gold Eagle products include four different sized collector coins and a set that has them all. The US Mint will release the coins at 12:00 noon ET on Thursday, April 21, 2011. This is nearly six months earlier than last year's issue which already sold out.
Mintages and order limits for each US Mint proof Gold Eagle product is provided in the following table:
2011 Proof Gold Eagles — Product Limits, Mintages
PRODUCT
LIMIT
MINTAGE
LIMIT
1 oz
30,000
70,000
1/2 oz
15,000
55,000
1/4 oz
16,000
56,000
1/10 oz
30,000
70,000
4-Coin Set
40,000
N/A
Product prices have not been officially listed, as they will not be known until Wednesday, April 20. At that time, proof Gold Eagle prices will be calculated based on the prevailing cost of gold in the London market. Using the Mint's pricing policy for numismatic precious metal coins, expected prices are provided in the table below. The middle $1450.00 to $1499.99 level is what the Gold Eagles would be priced at today if they were released.
Average Price of Gold
Gold Eagle Size
Gold Eagle Price
$1400.00
to
$1449.99
1 oz
$1685.00
1/2 oz
$856.00
1/4 oz
$440.50
1/10 oz
$190.50
4-coin set
$3123.00
$1450.00
to
$1499.99
1 oz
$1735.00
1/2 oz
$881.00
1/4 oz
$453.00
1/10 oz
$195.50
4-coin set
$3215.50
$1500.00
to
$1549.99
1 oz
$1785.00
1/2 oz
$906.00
1/4 oz
$465.50
1/10 oz
$200.50
4-coin set
$3308.00
Unlike the investor Gold Eagle versions which do not carry a West Point ("W") mint mark nor feature a special finish, the collector coins are produced in proof quality.
"American Eagle Gold Proof Coins are struck multiple times and feature a frosted foreground and mirror-like background, giving them a special cameo effect," the US Mint describes. "Each coin is sealed in a protective capsule and mounted in a handsome, satin-lined velvet presentation case accompanied by a Certificate of Authenticity."
The Proof Gold Eagle, like all collector coins, are sold directly by the US Mint. When available, orders will be accepted online at the Mint's website (http://www.usmint.gov/) and toll free number 1-800-USA-MINT (872-6468).
Investment-grade bullion 2011 American Gold Eagle coins were released on January 3 through the US Mint's network of Authorized Purchasers. The one-ounce collector 2011 Uncirculated Gold Eagle Gold coin is scheduled to launch on May 5, 2011. The uncirculated version was not issued in 2010.