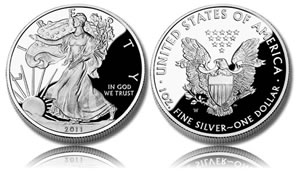 One of the United States Mint's most popular coins will be hitting the streets on Thursday, June 30 — the 2011 Proof American Silver Eagle.
The silver coin market has been fierce, and this year's coin will cost more as a result. The 2010 Proof Silver Eagle had a price tag of $45.95, but the price of silver then was around $22 per ounce as compared to about $37 an ounce today. Subsequently, the US Mint indicated that it will offer the 2011 Proof Silver Eagle for a price of $59.95, or $14 higher than the previous issue.
The United States Mint explicitly stated that its coin pricing is subject to change given the volatility the precious metal market, but collectors do not have to be reminded. It was not that long ago that the Mint suspended all its silver proof sets after silver prices skyrocketed. The sets eventually returned for sale when the white metal stabilized. But the end result was higher prices for several of them.
Will the same fate occur to the proof Silver Eagle? It is hard to predict. The launch is still more than three weeks away, and once released, it could take many months to sell out. There is only this statement to go by:
"As a result of the increase in the cost of silver, the 2011 American Eagle Silver Proof Coin is priced at $59.95," the United States Mint said. "There will be an initial order limit of 100 coins per household. Due to the high volatility in the market price of silver, this price may be subject to change."
The last component yet to be published is the coin's maximum mintage. That may not be known until after they have sold out. The United States Mint cut off orders for the 2010-dated Proof Silver Eagle when 860,000 sold, and in 2008, collectors bought over 700,000. Will the Mint keep the 2011 proof coin around longer by striking more, or will it focus on meeting the unprecedented demand for the silver bullion version? Perhaps the addition of the San Francisco minted Silver Eagle will enable the West Point facility to produce proofs for an extended period? As a collector's piece, however, a higher mintage could affect the coin's desirability down the road.
The 2011 Proof Silver Eagle will share the same Adolph A. Weinman's Walking Liberty design it has featured since the series started in 1986. It will have a mirror-like finish, carry the "W" West Point mint mark, and come encapsulated within a presentation case that is accompanied with a Certificate of Authenticity.
The uncirculated 2011-dated collector version currently has a "TBD," or To Be Determined date on the Mint's product schedule.
Once available, the Silver Eagle may be ordered directly from the United States Mint at http://catalog.usmint.gov/ or its toll free number 1-800-USA-MINT (872-6468).