U.S. gold prices pared losses Thursday after news broke of protests in Saudi Arabia. The metal still fell 1.2 percent on the day, but its decline was mild compared to the 2.7 percent plunge in silver prices.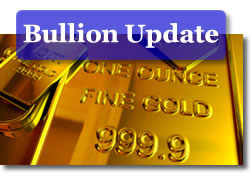 April gold prices declined $17.10 to close at $1,412.50 an ounce on the Comex in New York. Gold hit an intraday low of $1,403.00 an ounce and a high of $1,431.80 an ounce.
"The weakness in crude oil and the stronger dollar are pushing gold lower," Frank Lesh, a trader at FuturePath Trading LLC in Chicago, said and was quoted on Bloomberg. "Gold went up and made new highs this week, but there was no follow-through, so traders are liquidating their positions because the trade is not working."
Silver prices for May delivery plummeted 98.1 cents to settle at $35.066 an ounce. Silver ranged from $34.660 to $36.190.
"No chart damage was inflicted in silver Thursday, but the bulls do not want to see a bearish weekly low close on Friday. The silver bulls still have the strong overall near-term technical advantage," noted Jim Wyckoff of Kitco News.

"There are still no early technical clues to suggest a market top is close at hand. Prices are in a steep six-week-old uptrend on the daily bar chart. The next downside price breakout objective for the bears is closing prices below solid technical support at $34.00. Bulls' next upside price objective is producing a close above solid technical resistance at this week's high of $36.745 an ounce," added Wyckoff.
Platinum and palladium each slid 2.0 percent on Thursday.
Platinum prices for April delivery ended down $36.40 to $1,765.60 an ounce. It traded between $1,754.70 and $1,810.00.
Palladium prices for June delivery fell $15.25 to close at $766.40 an ounce. The metal's low was $761.10 and its high was $784.80.
London PM precious metals prices ended sharply lower as compared to prior PM fixings. Gold lost $17.75 with a fixing of $1,413.25 an ounce. Silver declined 98.0 cents at $35.190 an ounce. Platinum was $1,778.00 an ounce for a loss of $33.00. Palladium retreated $31 with its fixing of $769.00 an ounce.
Updated United States Mint sales figures show a solid 14,000 increase for the one-ounce American Gold Eagle bullion coins. That is nearly double the advance the Mint had reported during the previous seven days. American Silver Eagle bullion coins rose by 48,500, which is fairly modest for the silver coins that have already topped 10 million in year-to-date sales.
In other United States Mint coin news, the bureau announced that it would release the first of five 2011 America the Beautiful Silver Bullion Coins in late April. The coins, like the Silver Eagles, are composed of .999 fine silver but are much larger with their five-ounce weight and three-inch diameter. The series features the same designs as seen on the circulating America the Beautiful Quarters®.
The latest United States Mint sales figures follow.
U.S. Mint 2011 Bullion Coin Sales
March
2011 Totals
American Eagle Gold Coin (1 oz)
27,500
230,500
American Eagle Gold Coin (1/2 oz)
4,000
17,000
American Eagle Gold Coin (1/4 oz)
10,000
28,000
American Eagle Gold Coin (1/10 oz)
5,000
125,000
American Eagle Silver (1 oz)
717,000
10,379,000