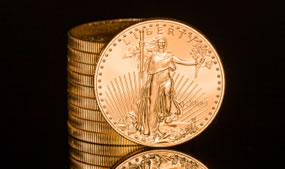 Precious metals were pulverized Friday with gold closing at a 21-month low and silver ending at its lowest price in 28 months.
No metal was spared for the week as a result. Weekly losses stacked to 4.7% for gold, 3.3% for silver, 2.6% for platinum and 2.0% for palladium.
Gold for June delivery plunged $63.50, or 4.1%, to settle at $1,501.40 an ounce on the Comex in New York, the weakest closing since July 1, 2011. The yellow metal reached as low as $1,491.40 an ounce.
"The scale of the decline has been absolutely breathtaking. We tried to rally and that just didn't get anywhere … there hasn't been any downside support, it's like a knife through butter," Reuters quoted Societe Generale analyst Robin Bhar.
With many market-watchers missing the call this week, more are cautious about gold's direction next week.
"In the Kitco News Gold Survey, out of 34 participants, 21 responded this week. Of those 21 participants, 10 see prices up, while 10 see prices down, and one sees prices moving sideways or are neutral," reports Kitco News.

"Those who see higher prices said the underlying fundamentals of ultra-loose monetary policy and strong physical buying interest, especially from China, may limit losses. However, some believe the break on Friday was a washout and might have gone too far, too fast in one day.

Those who see weaker prices note the trend for gold has been lower lately…"
Bloomberg's weekly gold survey leaned bearish with 14 participants expecting lower prices next week. Eleven were bullish and 6 neutral.
Gold in 2013 has now fallen $174.40, or 10.4%.
Silver, Platinum and Palladium Futures
Until Friday, silver had been ahead for the week. Instead, it finished at its lowest price since Nov. 17, 2010. Silver for May delivery plummeted $1.37, or 4.9% to settle at $26.331 an ounce. The precious metal tagged a low of $25.965 an ounce.
"Silver will crash in a big way only if it trades below $25.90," MarketWatch quoted Chintan Karnani, an independent bullion analyst based in New Delhi. He added that as long as silver trades over $25.90, it will consolidate in the $25.90-$28.96 range.
Silver is the worst performing precious metal so far this year, off $3.90 or 12.9%.
In other New York bullion futures Friday:
July platinum sank $39.90, or 2.6%, to $1,495.90 an ounce.

Palladium for June delivery tumbled $24.25, or 3.3%, to $709.10 an ounce.
For the year-to-date, the PGM's are mixed with platinum down 3.0% and palladium gaining 0.8%.
Precious Metals in London
Bullion prices in London declined Friday as well, though losses were less severe. In contrasting the Thursday PM to Friday PM London Fix prices:
Gold fell $29.50, or 1.9%, to $1,535.50 an ounce,
Silver shed 17.0 cents, or 0.6%, to $27.40 an ounce,
Platinum lost $17.50, or 1.1%, to $1,514.00 an ounce, and
Palladium declined $7.50, or 1.0%, to $750.50 an ounce
For the week in London, silver gained 1.6% while the other precious metals fell. Losses were 2.1% for gold, 1.1% for platinum and 0.6% for palladium.
US Bullion Coin Sales in April
U.S. Mint bullion coins are selling quickly in April, extending strong first quarterly gains. Gold coins, in particular, are moving fast with April sales already at 57,500 ounces. That is 15,500 ounces shy from total sales in March. In weekly sales breakdowns:
Gold bullion coins reached 33,500 ounces for a 39.6% increase over last week's total of 24,000 ounces. Splits were 28,500 ounces in 22-karat American Gold Eagles and 5,000 ounces in 24-karat American Gold Buffalos. Sales of gold coins this week are the strongest since the week ended February 8.

American Silver Eagles totaled 900,000 for a 10.8% increase over the prior week's 812,000. At 15,935,000 for the year-to-date, the bullion coins stay on pace for a new annual sales record. 2011 currently holds that record at 39.8+ million. Sales in that year reached 15,248,000 at the end of April.
2011-2012 America the Beautiful Five Ounce Silver Bullion Coins sold out on March 1. The U.S. Mint is not yet selling any of this year's five ounce coins.
U.S. Mint sold bullion products are in the table below along with their weekly, April and year-to-date sales totals.
American Eagle and Buffalo Bullion Coin Sales
Friday Sales
Last Week
Weekly Sales
April Sales
YTD Sales
$50 American Eagle Gold Bullion Coins
3,500
19,000
25,500
44,500
291,000
$25 American Eagle Gold Bullion Coins
0
1,000
3,000
4,000
30,000
$10 American Eagle Gold Bullion Coins
0
2,000
2,000
4,000
50,000
$5 American Eagle Gold Bullion Coins
5,000
20,000
10,000
30,000
245,000
$50 American Buffalo Gold Bullion Coins
500
2,000
5,000
7,000
102,000
American Eagle Bullion Silver Coins
0
812,000
900,000
1,712,000
15,935,000
All bullion figures above are in the number of coins sold. Calculate total ounces by using the bullion coin's weight.