U.S. gold and silver on Monday reached respective highs of $1,445.70 and $36.75 as rising oil prices and violence in Libya prompted safe-haven buying. Both metals eventually gave back a portion of their gains as profit-taking emerged.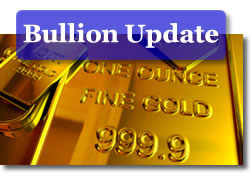 Platinum and palladium moved opposite of gold and silver, with palladium plummeting the most at 2.4 percent.
April gold prices ended up $5.90, or 0.4 percent, to $1,434.50 an ounce on the Comex in New York. Gold hit an intraday low price of $1,428.30 an ounce.
"It's just consolidation and profit-taking. The dollar strengthened, oil came off almost $2 a barrel, and that's why the gold market also came off," Bruce Dunn, vice president of bullion dealer Auramet Trading, said according to Reuters. "With all the problems in Africa and the Middle East, we are likely to see huge price spikes and high volatility. I don't see that changing anytime soon," Dunn added.
"The gold market is eyeing oil," Frank McGhee, the head dealer at Integrated Brokerage Services LLC in Chicago, said and was quoted on Bloomberg. "The concern is that the unrest will spill over to Saudi Arabia as an ever-expanding world is using more and more oil every day."
Crude oil futures for April delivery hit an intraday high of $106.95 a barrel before stepping back to $105.44 a barrel for a daily gain of $1.02, or 1 percent.
Silver prices for May delivery advanced 53.8 cents, or 1.5 percent, to finish at $35.865 an ounce.
Silver "prices closed near mid-range and hit another fresh contract and 31-year high. Some late profit-taking did knock silver down from its daily high," wrote Jim Wyckoff of Kitco News. "The silver bulls have the strong overall near-term technical advantage. There are still no early technical clues to suggest a market top is close at hand."
Platinum prices for April delivery fell $17.50, or 1.0 percent, to $1,820.40 an ounce. It ranged between $1,801.60 and $1,847.60.
Palladium prices for June delivery plunged $19.70 to close at $790.10 an ounce. Prices traded from $782.00 to $820.90.
With the exception of a modest decline for palladium, earlier London PM fixing prices were higher for all precious metals. The PM gold fix price was $1,437.50 an ounce, registering an increase of $10.50 from its previous PM fixing. Silver soared $2.17 with a fixing of $36.60 an ounce. The platinum fix was $1,838 an ounce for a pick-up of $10. Palladium was $810.00 an ounce for a loss of $1.
The United States Mint did not report new sales of its bullion coins on Monday. The latest figures follow.
U.S. Mint 2011 Bullion Coin Sales
March
2011 Totals
American Eagle Gold Coin (1 oz)
6,000
209,000
American Eagle Gold Coin (1/2 oz)
0
13,000
American Eagle Gold Coin (1/4 oz)
0
18,000
American Eagle Gold Coin (1/10 oz)
0
120,000
American Eagle Silver (1 oz)
0
9,662,000
For the latest news about US coins, read the CoinNews.net article Silver Coin Values Explode.