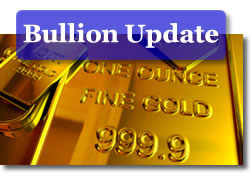 U.S gold and palladium prices edged higher Thursday, supported by a weaker dollar and higher oil prices. Platinum and silver declined, although both metals substantially trimmed their losses.
June gold prices added $5.40, or 0.4 percent, to finish at $1,506.80 an ounce on the Comex in New York.
"China is still taking steps to rein in its economy, and that's bearish for commodities," Adam Klopfenstein, a senior market strategist at Lind-Waldock in Chicago, was quoted on Bloomberg. "The easy money has been made in the metals. The benefit to gold is that even as investors are liquidating commodities, there will be flight-to-quality buyers for gold."
Gold prices moved between an intraday low of $1,477.60 and a high of $1,509.70.
Silver prices for July delivery ended down 71.8 cents, or 2.0 percent, to $34.797 an ounce. Silver moved substantially off its intraday low of $32.300. The metal reached as high as $35.890.
"The one thing that participants (and observers) are fast-learning about 'poor man's gold' is that it can indeed render one poor in a matter of minutes, just as it enriched some in a relatively fast manner in recent months," noted Jon Nadler, Senior Analysts at Kitco Metals Inc. "However, more evidence has emerged that the "brother-in-law" syndrome had taken over retail buyers' psychology as more and more of them piled into the metal on nothing more than hearsay, and perhaps with money they could ill-afford to lose."
Platinum prices for July delivery fell $6.80, or 0.4 percent, to $1,771.00 an ounce. It traded from a low of $1,752.00 to a high of $1,785.00.
Palladium prices for June delivery rose $1.45, or 0.2 percent, to settle at $716.85 an ounce. Prices moved between $695.75 and $723.75.
London precious metals were lower across the board when comparing their PM fixings on Thursday to those on Wednesday. Gold lost $18.50 at $1,489.50 an ounce, silver declined $6.680 at $32.50 an ounce, platinum fell $33.00 at $1,760.00 an ounce, and palladium dropped $10.00 at $715.00 an ounce.
United States Mint bullion coin levels remained unchanged from the previous day.
US Mint 2011 Bullion Coin Sales
Daily
Gains
May
2011
YTD
2011
Gold Eagle Coin (1 oz.)
0
68,500
426,500
Gold Eagle Coin (1/2 oz.)
0
19,000
52,000
Gold Eagle Coin (1/4 oz.)
0
4,000
56,000
Gold Eagle Coin (1/10 oz.)
0
15,000
215,000
Gold Buffalo Coin (1 oz.)
0
5,000
63,500
Silver Eagle (1 oz.)
0
1,421,000
16,669,000
ATB Silver Bullion (5 oz.)*
0
25,000
250,400