Early U.S. coinage and classic proofs, among them one of the finest known 1895 Morgan dollars, are the twin strengths of the Heritage Auction Galleries December 2010 U.S. Coin Auction, to be held in conjunction with the Money Show of the Southwest in Houston, TX. Floor sessions are Dec. 2-3.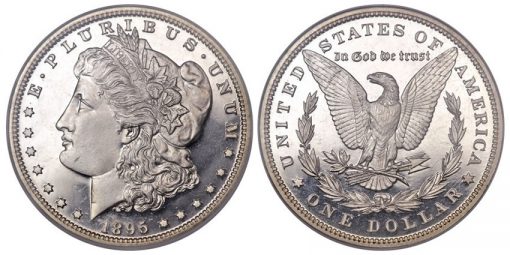 "With Featured Collections such as The W. Philip Keller Collection of U.S. Colonials and The Eagle Harbor Collection, Part Two lined up, we knew this auction was going to be heavy on early U.S. coinage," said Greg Rohan, President of Heritage. "The many great proof coins we're going to offer were more of a surprise, though definitely a welcome one."
Perhaps the most surprising lot of them all is an 1895 Morgan dollar graded PR68 Ultra Cameo by NGC. This example from what is arguably the most famous Morgan dollar issue combines great condition with immense popular demand. It is estimated at $90,000+.
"For many years, collectors believed that there were business strike 1895 Morgan dollars out there waiting to be discovered, and in the meantime, they collected proof examples to fill the gap," said Rohan. "Today, there is growing acceptance that the business strikes may never be found, but this has hardly dampened enthusiasm for the proofs."
Just 880 proof Morgan dollars were struck in 1895 for inclusion in the year's silver proof sets. Perhaps half that number survive today, but only a handful of those coins are in a condition approaching the PR68 Ultra Cameo level.
On the early coinage side, the most prestigious pedigree belongs to a 1793 Wreath cent with Vine and Bars edge, S-5, B-6, graded MS61 Brown by PCGS. It is estimated at $50,000+.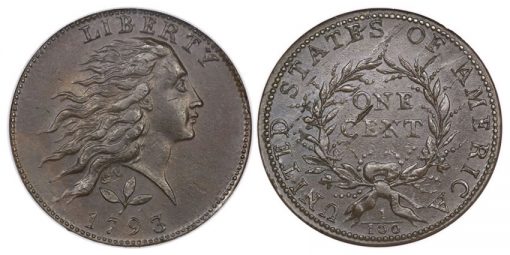 "This coin has been well-recognized and important to collectors for more than a century," said Rohan. "It was first highlighted in the auction catalog for the Dr. Charles Clay Collection, sold all the way back in 1871. After that, it passed through a series of famous hands, including W. Eliot Woodward, Lorin G. Parmelee, and Wayte Raymond. We expect another name with plenty of future appeal to add this prestigious and carefully preserved coin to his or her collection."
In addition to proof silver, proof gold is also well-represented in this auction by an 1876 three dollar gold piece graded PR63 by PCGS, a proof-only issue with an official mintage of just 45 pieces, among the most elusive Philadelphia dates in the series.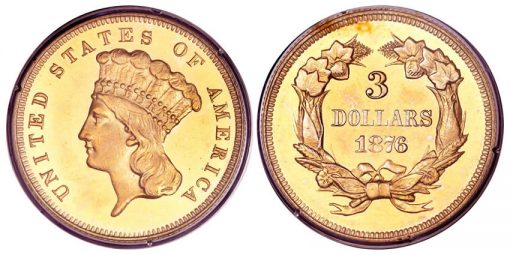 This Select example was certified early in the history of PCGS, and no mention is made on the holder of the coin's obvious cameo contrast. It is estimated at $40,000+.
A 20th century highlight in the proof gold category comes with a 1901 double eagle graded PR66 Cameo by NGC. Proof twenty dollar gold pieces are among the most prestigious series for U.S. collectors.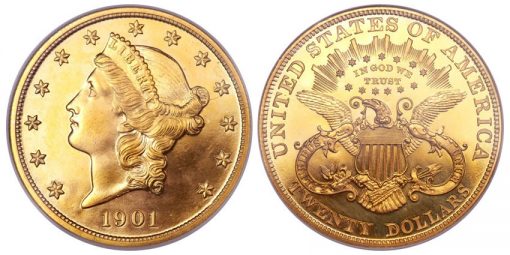 Just 96 proof double eagles were struck for the first year of the 20th century, a relatively late date in the series, and few of those massive twenty dollar gold coins have survived with their mirrored surfaces so carefully preserved as this example. It is estimated at $75,000+.
Additional highlights include, but are not limited to:
Lot 3613, a 1796 16 Stars Obverse half dollar , O-102, graded VG10 by PCGS with CAC sticker: An attractive example of the Draped Bust, Small Eagle half dollar type, a "key series" for type collectors which contains just four die pairs, all of them individually rare. Estimate: $45,000+.
Lot 3835, an 1879 Trade dollar graded PR68 Cameo by NGC with CAC sticker: The first of several proof-only Trade dollar issues struck at Philadelphia, offered in the highest technical grade recorded. Estimate: $40,000+.
Lot 4401, an 1809/8 half eagle, BD-1, graded MS64 by NGC: An important and high-end example of this scarce early gold date. Estimate: $40,000+.
Lot 4461, an 1892 half eagle graded PR67 Ultra Cameo by NGC: A remarkably high-end example of 19th century proof gold, one of just 92 specimens produced. Estimate: $60,000+.
About Heritage Auctions
Heritage Auctions, headed by Steve Ivy, Jim Halperin and Greg Rohan, is the world's third largest auction house, with annual sales more than $600 million, and 500,000+ registered online bidder members. For more information about Heritage Auctions, and to join and gain access to a complete record of prices realized, along with full-color, enlargeable photos of each lot, please visit HA.com.