Classics of American coinage ready for Heritage's final Signature® Numismatic Auction of the year in Houston on Dec. 3
DALLAS, TX — A rare and highly desirable branch mint proof 1884-CC Morgan dollar, graded PR66 Cameo by NGC, leads the list of highlights for Heritage Auctions' December 2009 Signature® U.S. Coin Auction, to be held in Houston, TX. It is estimated at $140,000+.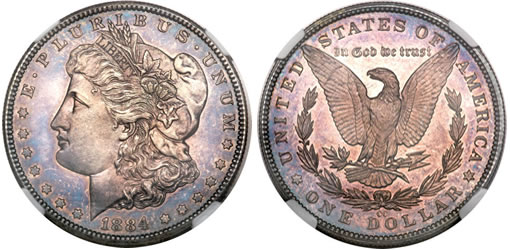 Branch Mint Proof 1884-CC Morgan Dollar, Graded PR66 Cameo by NGC
Though the Carson City Mint had neither the personnel nor the resources to strike proof coins on a par with those produced at the main Philadelphia Mint, it did turn out a small number of special pieces, or branch mint proofs.
"In the second half of the 19th century Philadelphia struck virtually all proof coins," said Greg Rohan, President of Heritage Auctions. "Only a handful of proofs were struck at branch mints such as Carson City — some with official authorization and some without. While this branch mint proof dollar does not appear in any official records, it is clearly unlike any Morgan dollar struck for circulation."
Saint-Gaudens double eagles can be found near the top of the list for almost any U.S. Coin auction, and the Heritage Auctions Houston event is no exception. Of the double eagles to be offered in Houston is a 1925-D double eagle graded MS65 by PCGS, a gorgeous specimen that shows why artistry is as greatly desired as rarity. It is estimated at $70,000+.
"Like other D-mint and S-mint issues of the time, the 1925-D was almost completely wiped out in the 1930s," said Rohan. "Any 1925-D double eagle is a desirable coin, and a Gem survivor such as this is of particular importance."
A pair of prominent highlights of the Houston auction is supplied by the Steven Forcier Collection of U.S. Classic Commemoratives in the form of the two varieties of 1915-S Panama-Pacific $50 gold pieces. Both the round (estimate: $80,000+) and the octagonal (estimate: $70,000+) versions are graded MS64, the former by NGC and the latter by PCGS. Each variety has a net mintage of under 1,000 pieces, and are sure to catch the eye of many a potential collector as the $50 round is the key to the entire classic commemorative series.
Early coinage enthusiasts will find plenty to celebrate as well. A 1795 eagle with very rare 9 Leaves reverse, graded XF Details by NGC, should attract attention from both die-variety specialists and type collectors, with its grade making it accessible to a number of numismatists who might otherwise find 9 Leaves pieces out of reach. It is estimated at $45,000+.
Additional highlights include, but are not limited to:
About Heritage Auctions
Heritage Auctions, headed by Steve Ivy, Jim Halperin and Greg Rohan, is the world's third largest auction house, with annual sales more than $700 million, and 475,000+ registered online bidder members. For more information about Heritage Auctions, and to join and gain access to a complete record of prices realized, along with full-color, enlargeable photos of each lot, please visit www.HA.com.
Want to get the up-to-the-minute updates and breaking news stories about Heritage Auctions? Get them as they happen at: www.Twitter.com/HeritagePress; www.Twitter.com/JimHalperin; Facebook: Heritage Auction Galleries. To view a compete archive of Heritage press releases go to: www.HA.com/PR.