The release of a super exclusive gold collectible coin, the 2011 Kangaroo Allied Rock-Wallaby, resulted in a close call for the Royal Australian Mint's internet and phone lines.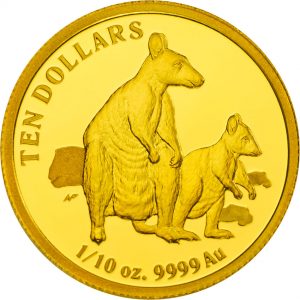 The Mint was inundated with phone calls and internet orders which resulted in a sell-out of the coin allocation for both of those avenues within a couple of hours.
"With a mintage of only 1500, this coin was a great opportunity to add something exclusive to their collection," said Royal Australian Mint Chief Executive Officer Mr Ross MacDiarmid.

"It's great to see coin collectors getting excited about products like this. The Royal Australian Mint is really trying to focus on reigniting the passion in collecting our coins through offering such exclusive and in demand products."
The Mint is renowned for its proof coining ability and achieving an amazing mirror-like finish which is stunning on gold.
The 2011 Kangaroo Series Allied Rock-Wallaby $10 Gold Proof Coin was released for sale on Tuesday 5 October along with the 2011 Lunar Series Year of the Rabbit $10 Gold Proof Coin. The Year of the Rabbit coin has a slightly larger mintage of 2500 and is also selling fast.
About the Royal Australian Mint

His Royal Highness, The Duke of Edinburgh, officially opened the Royal Australian Mint (www.ramint.gov.au), Canberra, on Monday 22nd February 1965.
The Mint was commissioned to produce Australia's decimal coinage, which was to be introduced into circulation on 14th February 1966. The Royal Australian Mint holds a place in history as the first mint in Australia not to be a branch of the Royal Mint, London.