New from the Royal Canadian Mint is its latest issue from a best-selling series of 0.5 grams of 99.99% pure gold coins bearing portraits of small animals. Featuring the pika or rock rabbit, the smallest member of the rabbit family, this newest 25-cent gold piece is limited to 10,000 and is priced at CAD $79.95, or US $63.84.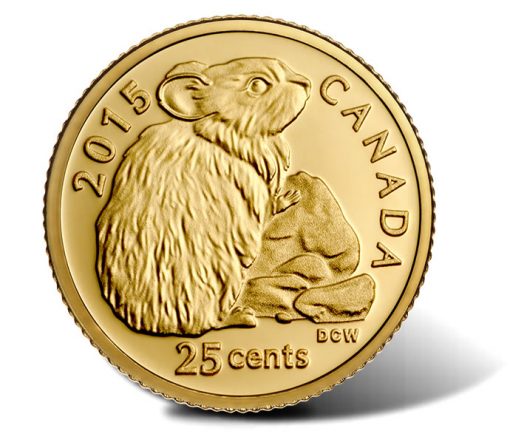 Reverses, designed by Canadian wildlife artist Derek C. Wicks, depict a rock rabbit inquisitively peering up and poised with its front paws leaning against a loose pile of rocks that line the slopes of the Canadian Rockies.
"Despite the coin's small size, this side-profile portrait of a pika captures the mammal's soft features and expression in exquisite detail," describes the Royal Canadian Mint. "Masterful engraving recreates this timid creature's prominent, rounded ears as well as the fur that covers its stocky little body and face."
Inscriptions around the design include 2015, CANADA, 25 cents and the artist's initials of DCW.
Obverses present Susanna Blunt's effigy of the Queen along with inscriptions of ELIZABETH II and DG REGINA, which is Latin for "By the Grace of God, Queen."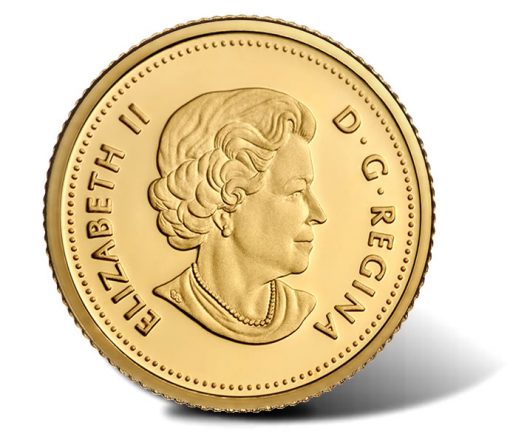 Coins are minted in collector proof quality finish to a diameter of 11 millimeters. All Mint-provided coin specifications include:
Mintage: 10,000
Composition: 99.99% pure gold
Finish: proof
Weight (g): 0.5
Diameter (mm): 11
Edge: serrated
Certificate: serialized
Face value: 25 cents
Reverse Artist: Derek C. Wicks
Obverse Artist: Susanna Blunt
Ordering
For reference, at the latest London PM fix price for gold of $1,223.75 an ounce, this coin has an approximate melt value of about CAD $24.58, or about US $19.67.
Orders for the 2015 25c Canadian Rock Rabbit Gold Coin may be placed on the Royal Canadian Mint's website at mint.ca. An affiliate link to the Mint's new coin releases is right here
.
Each coin is encapsulated and held within a Mint-branded presentation case. There are no household ordering limits.