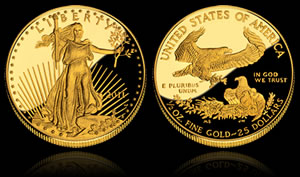 United States Mint 2011-dated Proof American Gold Eagle products are down to two as the individual $25 coin sold out Monday, joining the previous $50 and $10 sell outs.
Two proof American Gold Eagle products now remain — the smallest $5 coin for $220.50 and the four-coin set which includes all sizes but at a steeper $3,678.00 price. As the United States Mint is no longer striking 2011-dated coins, sell outs of these two products could occur at any time as their inventories dwindle daily.
According to the latest available U.S. Mint sales figures as of Monday, February 20, buyers had purchased 7,855 of the 2011-W $25 Proof American Gold Eagles individually and 17,697 with the four-coin set for a combined total of 25,552. When all the Eagles were released last year, the Mint had announced a maximum mintage of 55,000 for the $25 gold piece. However, actual demand levels during the first few months of a product's release often dictate how many of them are actually minted, and the final $25 Eagle mintage will fall far short of 55,000 as a result.
2011-W American Proof Gold Eagle Coins — Product Limits, Mintages, Sales*   
PRODUCT LIMIT
MINTAGE LIMIT
CURRENT SALES
NOTES/PRICE
$50 Proof Gold Eagle Coin (1 oz)
30,000
70,000
30,000
SOLD OUT
$25 Proof Gold Eagle Proof Coin (1/2 oz)
15,000
55,000
7,855
SOLD OUT
$10 Proof Gold Eagle Coin (1/4 oz )
16,000
56,000
10,381
SOLD OUT
$5 Proof Gold Eagle Coin (1/10 oz )
30,000
70,000
22,121
$220.50
4-Coin Set
40,000
N/A
17,697
$3,678.00
*All sales are as of Monday, February 20, 2012. Coin prices can change weekly depending on the direction of precious metals.
American Gold Eagles made their debut in 1986 with bullion versions produced for investors and proofs struck for collectors. The 2011 proofs were released on April 21. The Mint has not announced when it will begin offering this year's issues.
The 2012 bullion versions launched on January 3. These coins do not carry a West Point "W" mint mark nor have a special finish. Additionally, bullion coins are distributed through a network of "Authorized Purchasers" or AP's, while proofs are sold directly to the public by the Mint.